Download the La Joya ISD app now! Stay informed with the most recent news, events, and notifications from La Joya ISD. Everything you need to know about La Joya ISD, right at your fingertips Download for iPhone
https://apple.co/3FEVPF2
Download for Android
https://bit.ly/3FCgCJk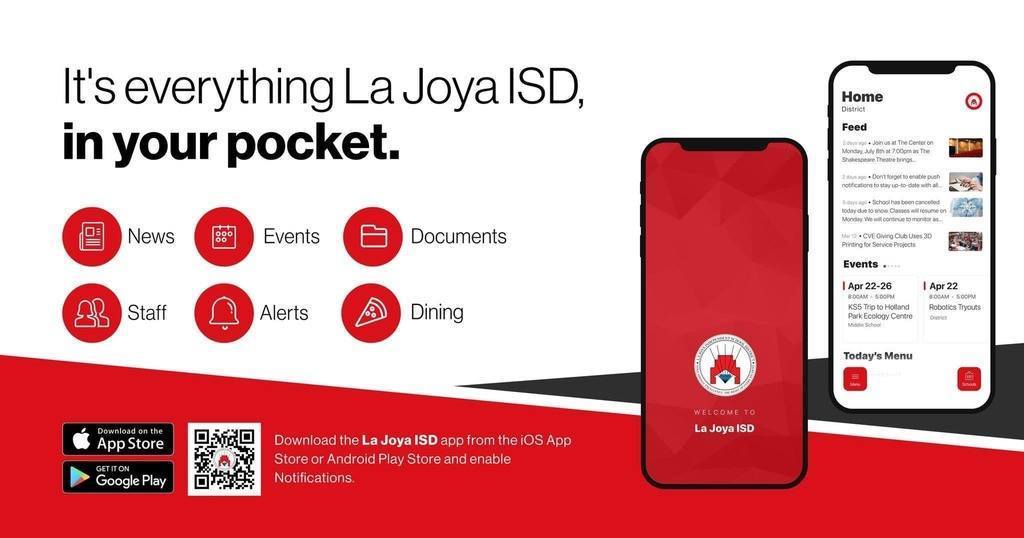 📣⚠️Attention La Joya ISD Community:⚠️📣 La Joya – At approximately 3:30 PM on September 6, 2023, a La Joya Independent School District bus was involved in a traffic accident at the intersection of 4 Mile Line and Texan Road. Fortunately, there were no students on board at the time of the incident. The bus was carrying three La Joya ISD employees who were on route to their respective destination. We are relieved to report that all three employees have been transported to the hospital for evaluation and treatment, and we are pleased to confirm that they have sustained no major injuries.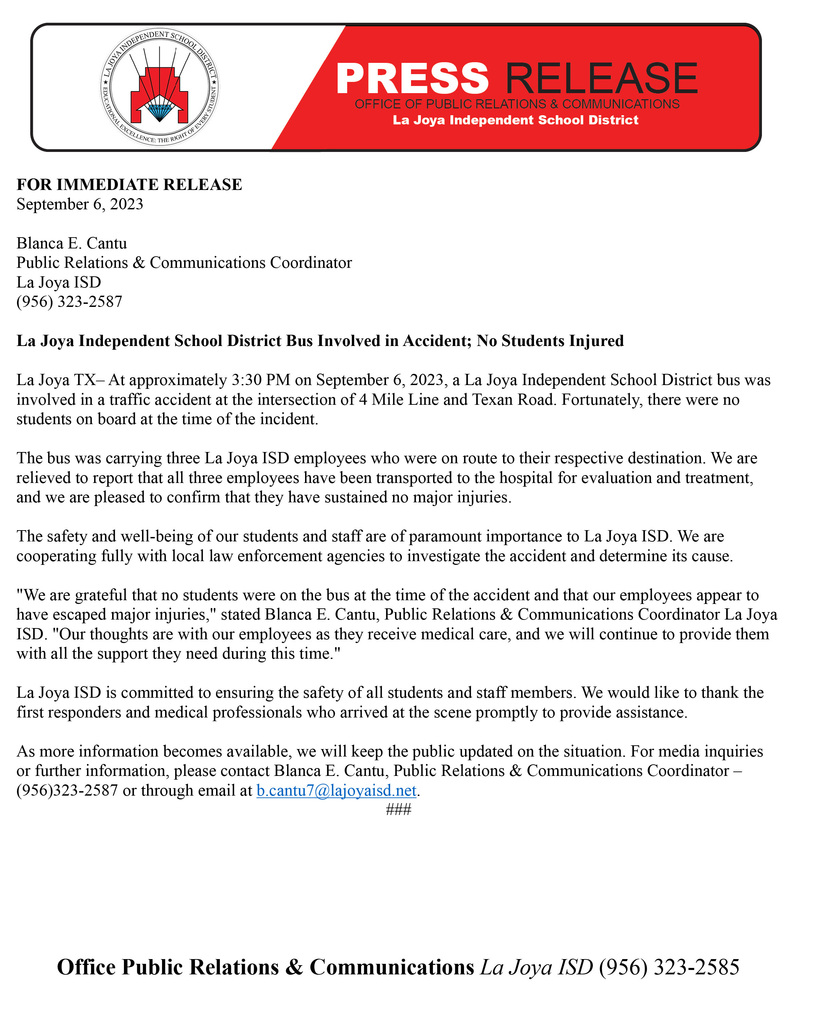 📣Just a Friendly Reminder! 📅🏫🌟 All La Joya ISD campuses and administration offices will be closed on Monday, September 4, 2023, in observance of Labor Day. 🇺🇸🛠️ Classes and regular operations will be back in action on Tuesday, September 5, 2023. 📚👨‍🏫 Enjoy your long weekend and well-deserved break! 🎉🌞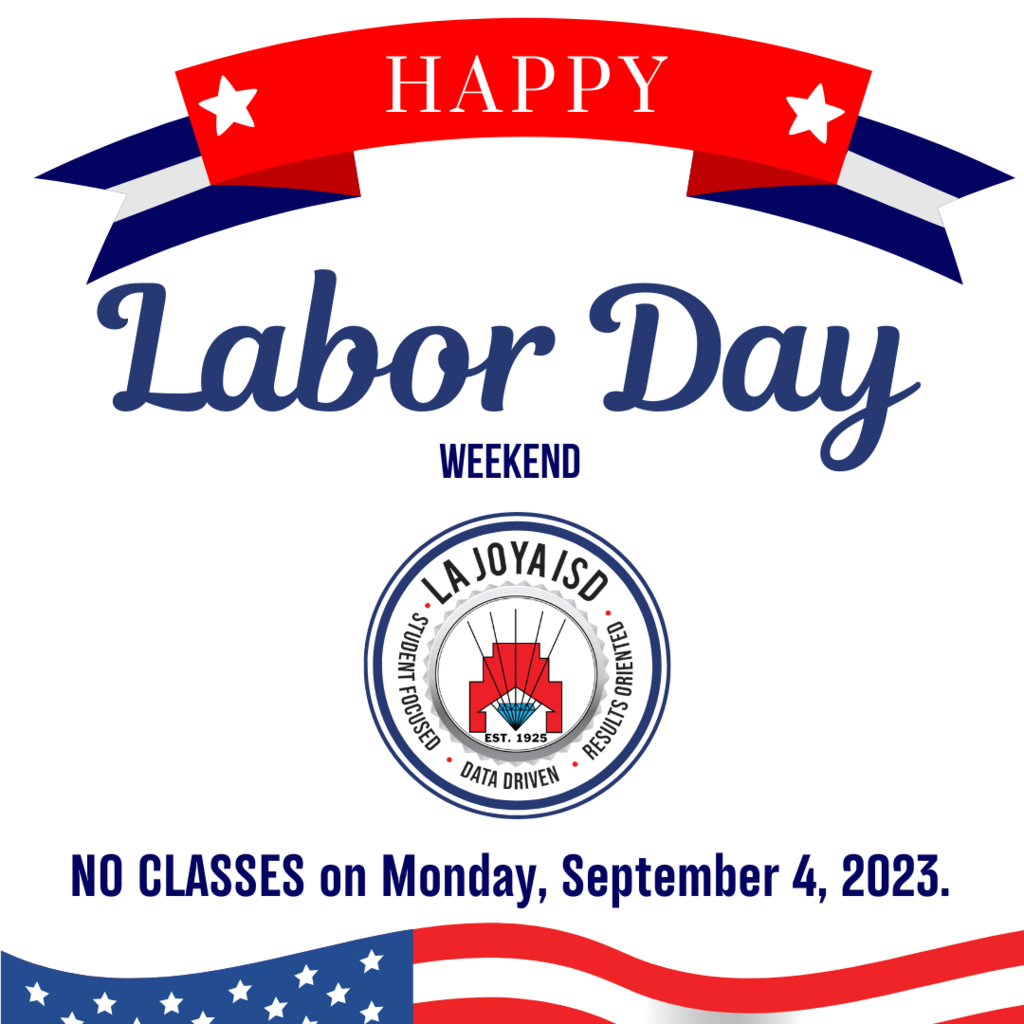 🚭 No Vaping Zone! 🚭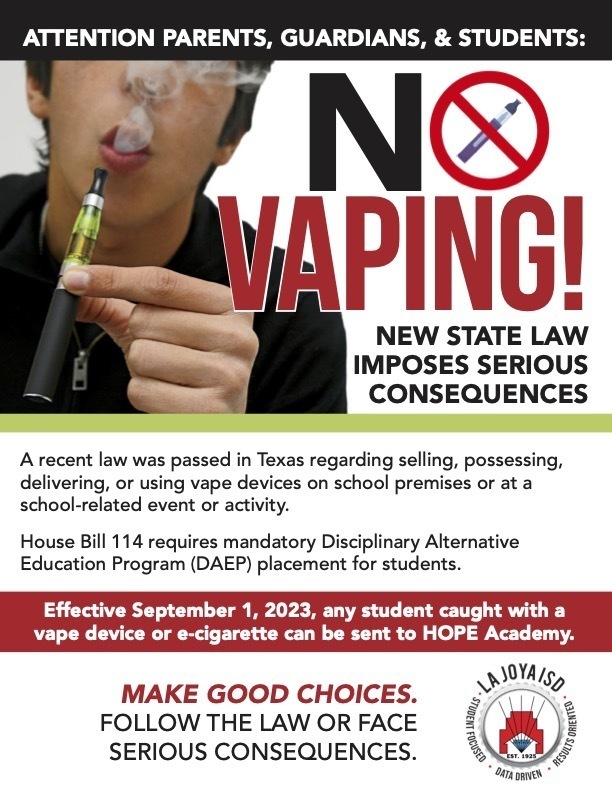 School Safety is Our TOP Priority!!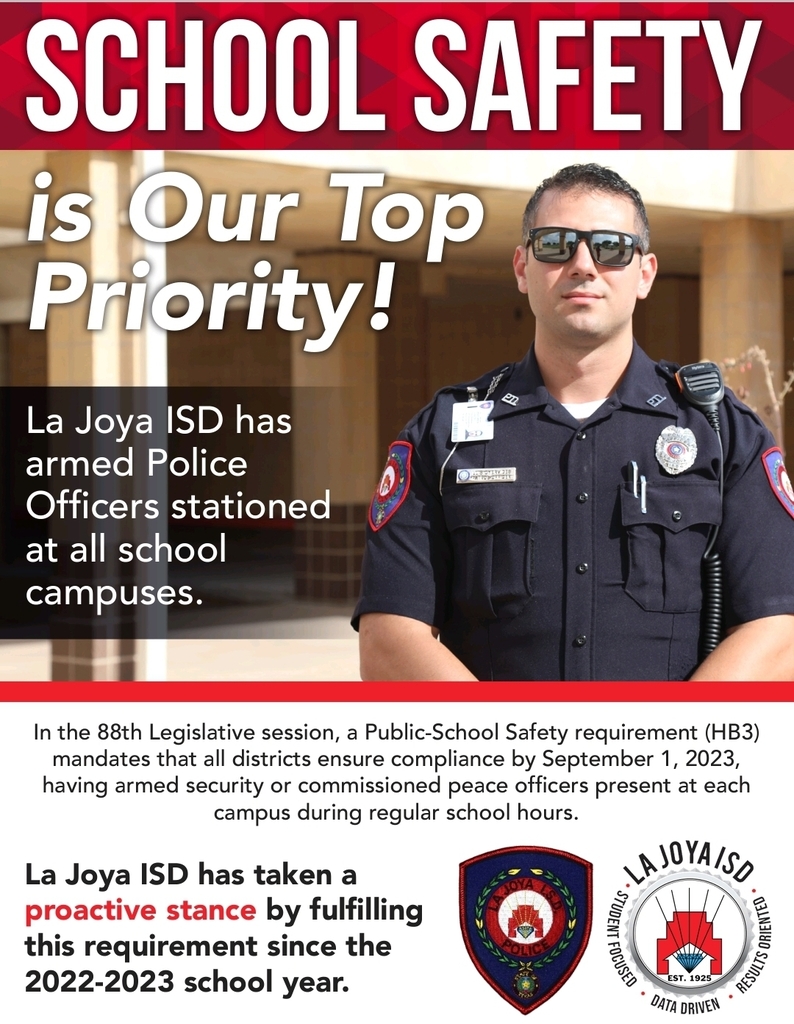 🥳 We are taking a little break, just a quick reminder: In observance of Labor Day, all district offices and campuses will be closed on Monday, September 4th. We'll be back and ready to assist you on Tuesday, September 5th. Enjoy the 3-day holiday weekend!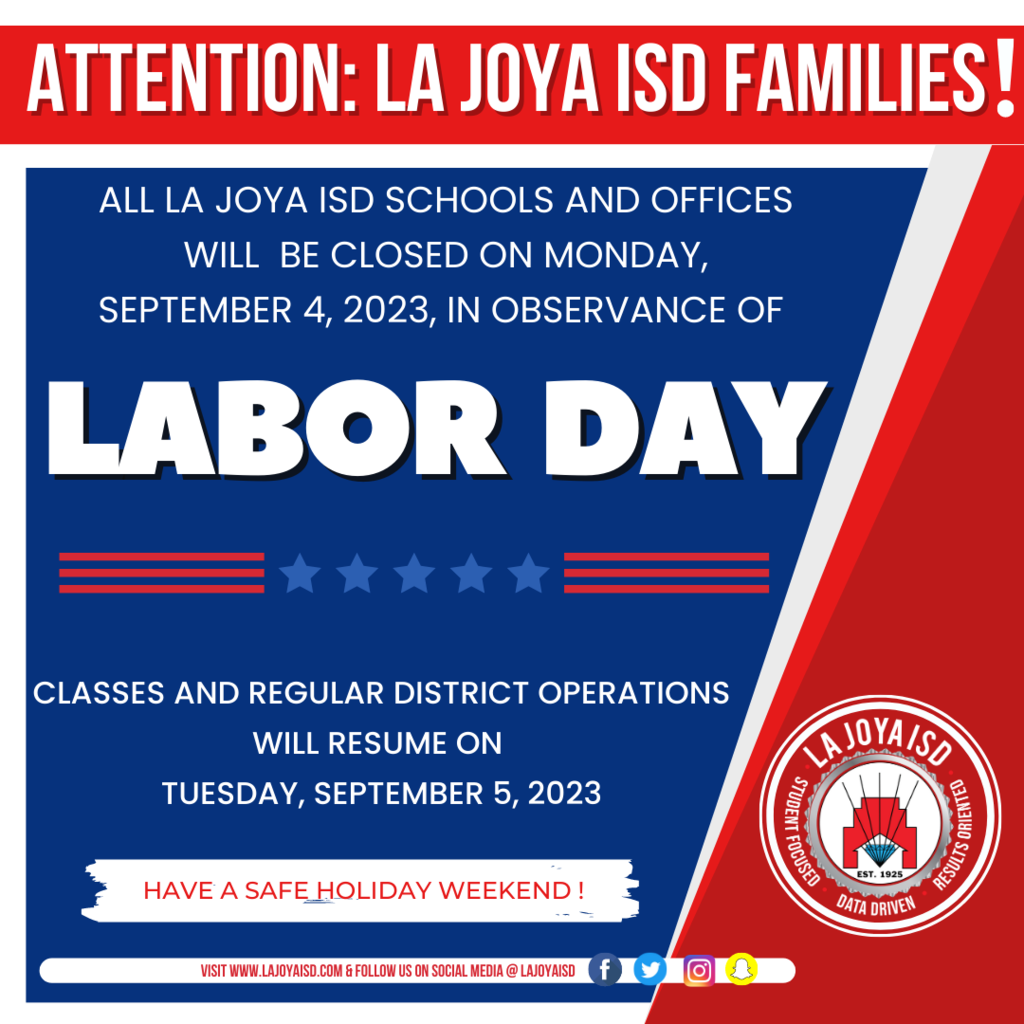 Congratulations to our La Joya ISD Curriculum Content Coordinators. The district recognized the invaluable contributions of the Curriculum Content Coordinators to our school district. These dedicated professionals play a pivotal and often unsung role in education, shaping the learning journey by meticulously crafting comprehensive curriculum content and providing essential instructional coaching to educators. They are integral contributors to the success and growth of our education system. #ljisdstudentfocuseddatadrivenresultsoriented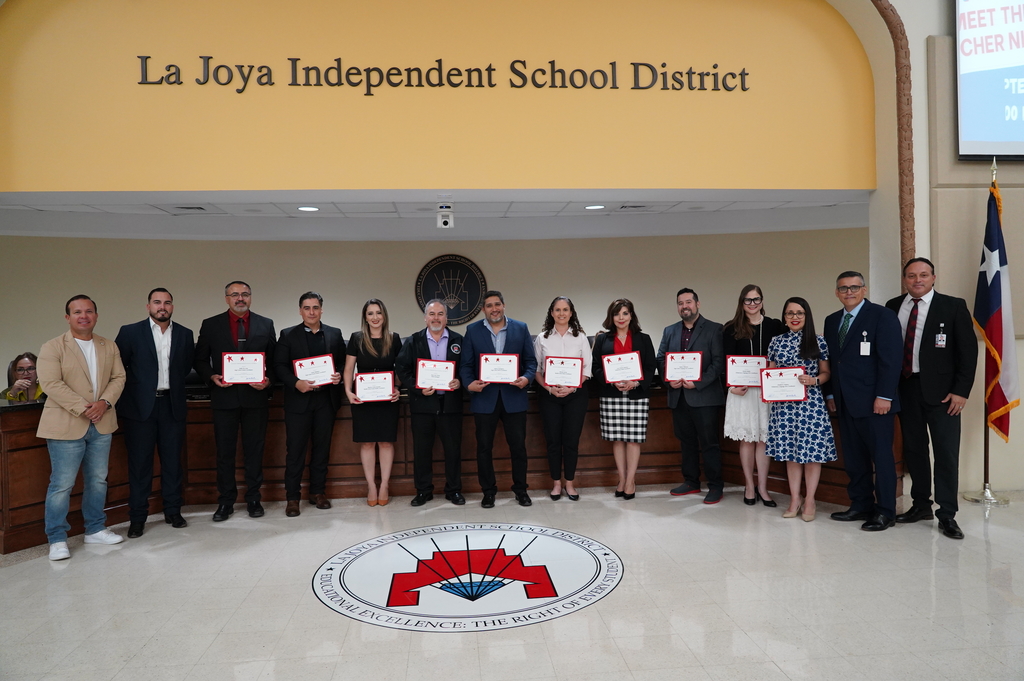 Our school hours will remain unaffected, maintaining our regular schedule. Please note that there might be bus delays due to additional stops, ensuring that students won't have to walk longer distances to reach a bus stop. Your child's convenience and safety remain our top priorities. ****************** Nuestro horario escolar seguirá sin cambios, Tome en cuenta que puede haber retrasos en los autobuses debido a paradas adicionales, asegurando que los estudiantes no tengan que caminar distancias largas para llegar a una parada de autobús. La seguridad de su hijo/a sigue siendo nuestra máxima prioridad.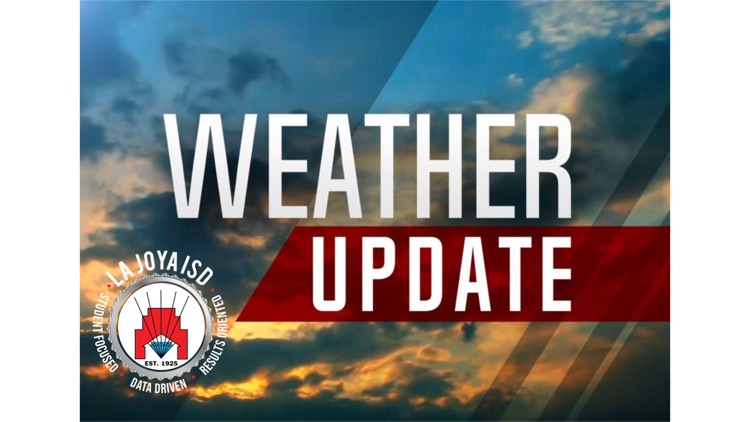 🌧️ La Joya ISD Weather Update 🌩️ / 🌦️ Actualización del Distrito sobre Clima Severo🌧️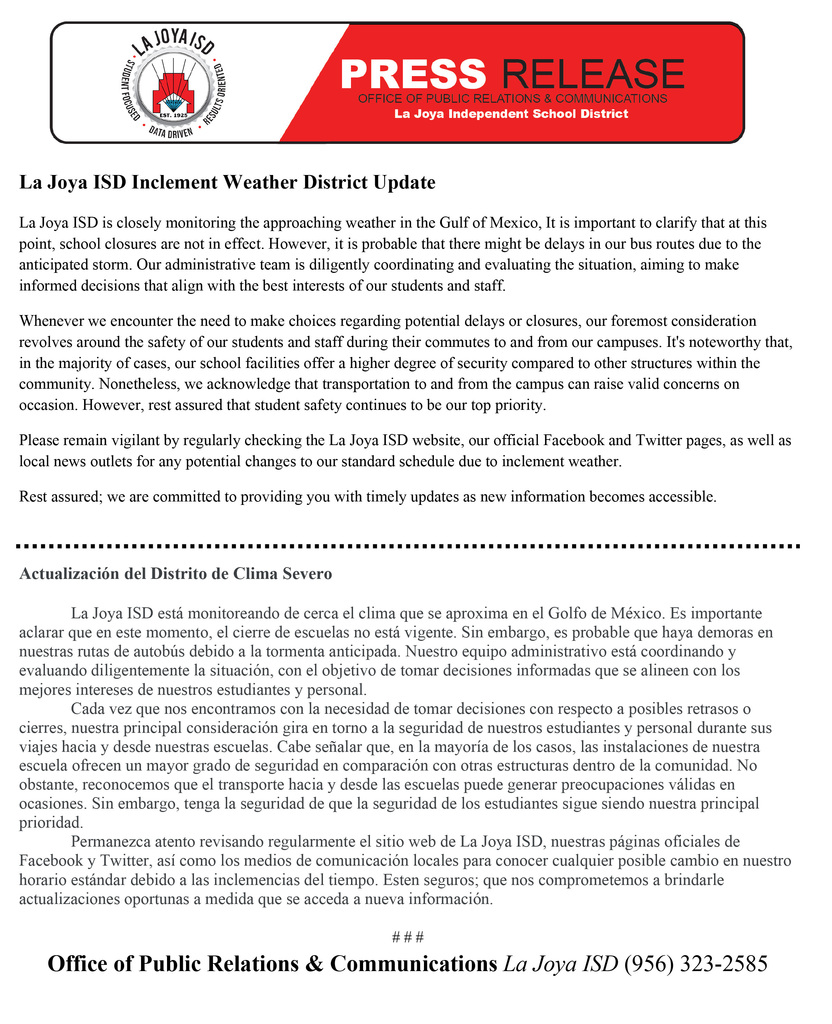 🏈📣 Get ready for football season! Check out the upcoming game schedules. Let's unite as a community to support our talented student-athletes and create unforgettable moments on the field. GO PACK!! 🎉🏟️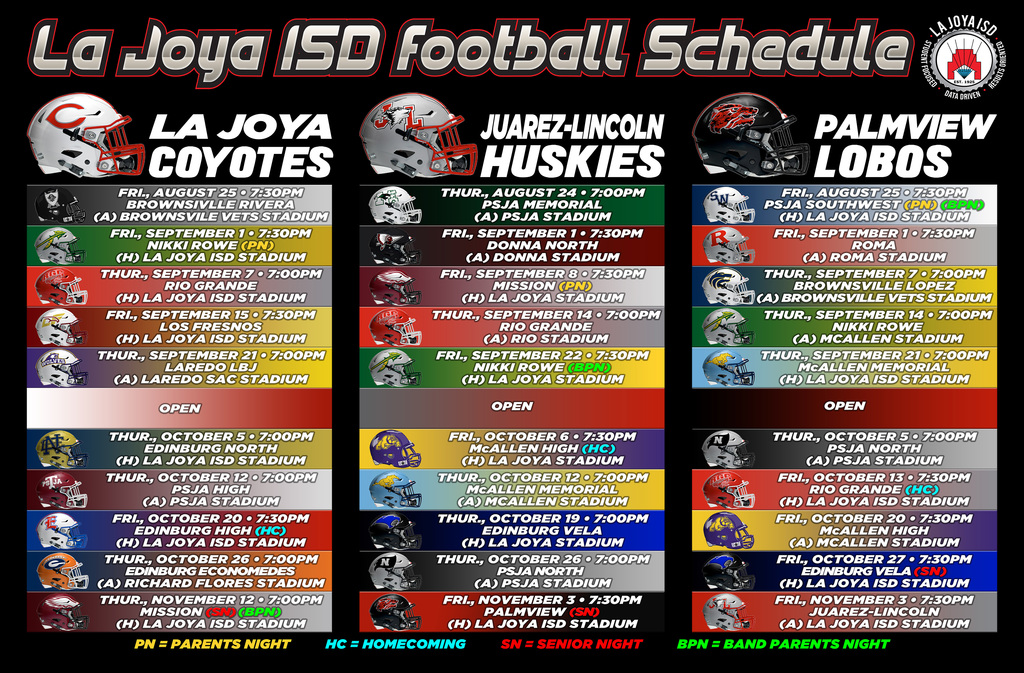 🚌📚 Welcome to the first day of school!🥳🎒 We might experience slight delays in the school bus schedule. We sincerely appreciate your understanding and patience. Let's embark on a fantastic school year together! 📚✨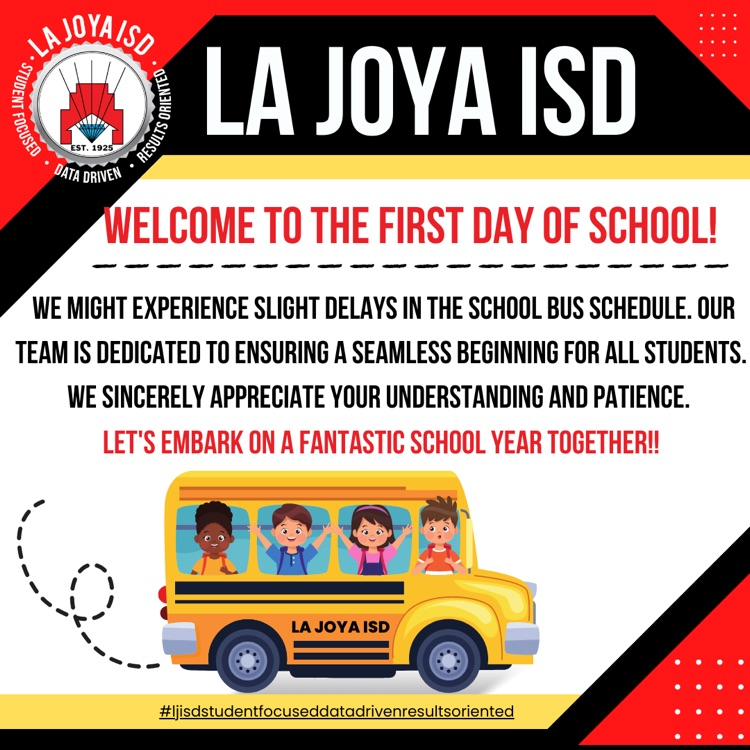 🍎📚 Welcome back, amazing teachers! 📚🍎 Today marks the first day of the 2023-2024 school year, and we couldn't be more excited to have you back in action. Your passion and dedication to education, coupled with our shared motto of being student-focused, data-driven, and results-oriented, make a world of difference in the lives of our students. Together, let's create an empowering environment that fosters growth and achieves exceptional outcomes. Wishing you all a fantastic start to the new school year!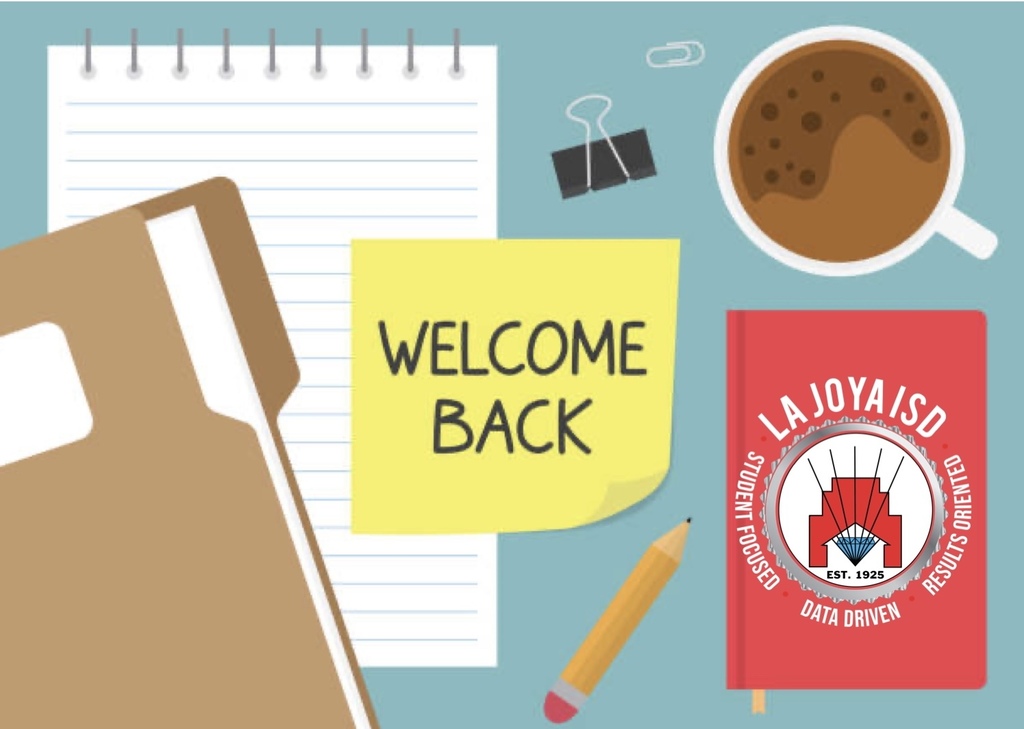 La Joya ISD continues to work with Region One Education Service Center with the Junior Clinical Research Internship 2023 Program, where we proudly support the talented students from La Joya ISD who participated! 🌟🎉 Their dedication and passion are inspiring! 💪🏽🎓 #StudentFocused 📚 #DataDriven 🔬 #ResultsOriented 📈 #PartnershipsMatter 🤝 Let's continue fostering a bright future together! 🌟🚀 Texas Education Agency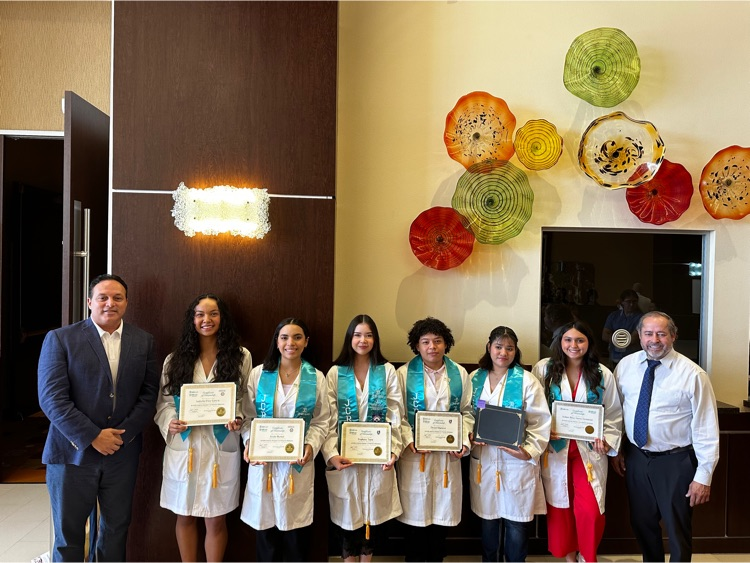 🎉📚The countdown to #BackToSchool continues! 🎒😄 🎉🎒 Get ready for an incredible adventure! 🚌📚 Back to school is just around the corner, and we can't wait to see all your smiling faces again! 🤩🎉 Let's make this academic year the best one yet! 🌟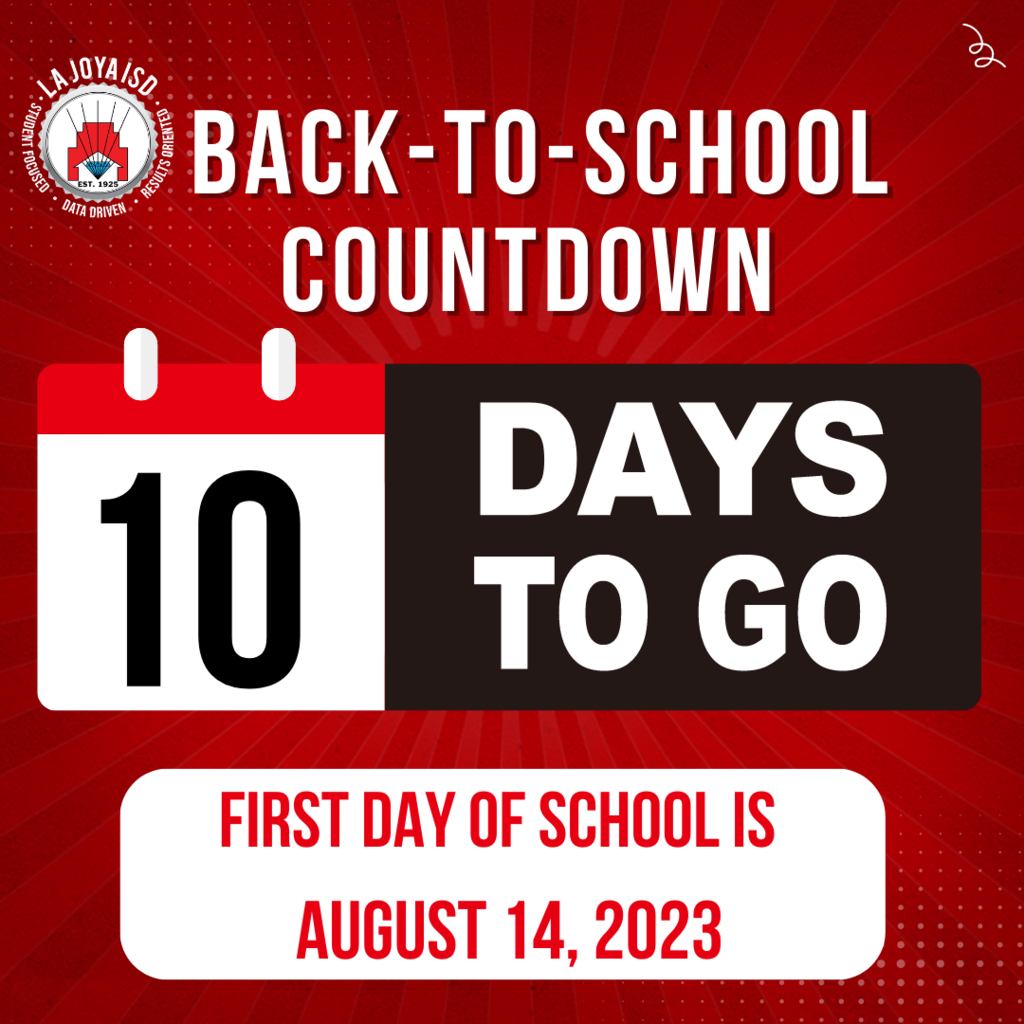 🎉🏀🏈⚽️🎾🏐 Exciting times ahead! Our Superintendent of Schools, Mr. Heriberto Gonzalez, gave a warm welcome to all our amazing athletic coaches at their annual meeting! 🤝💪🏻 Let's gear up for an incredible season filled with teamwork, dedication, and victories! 🏆🎉 GOOOOOO PACK!! #ljisdstudentfocuseddatadrivenresultsoriented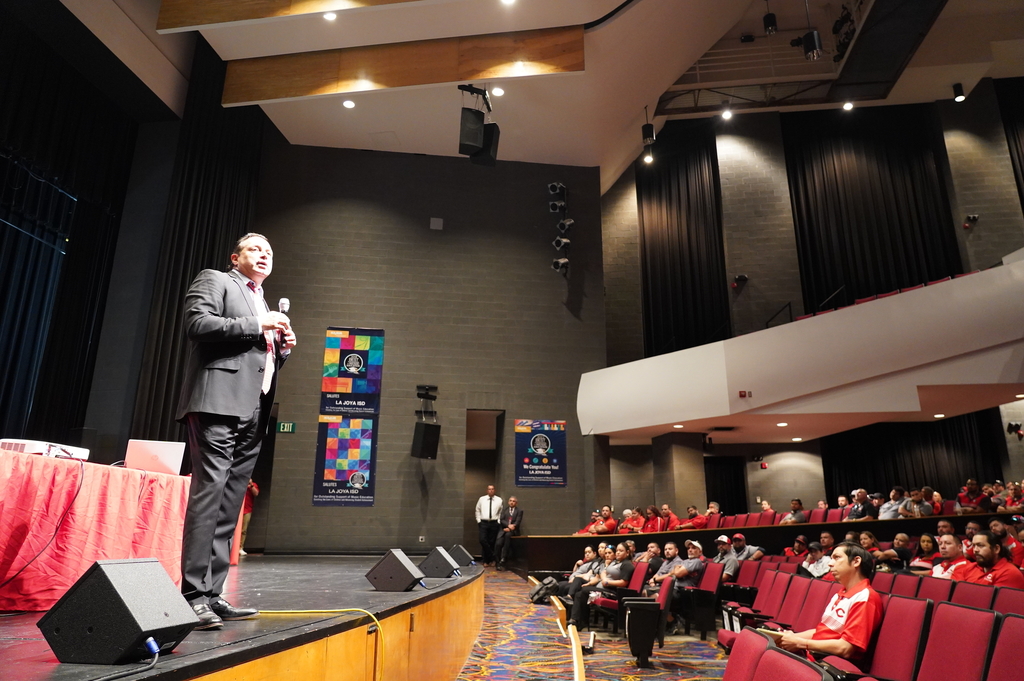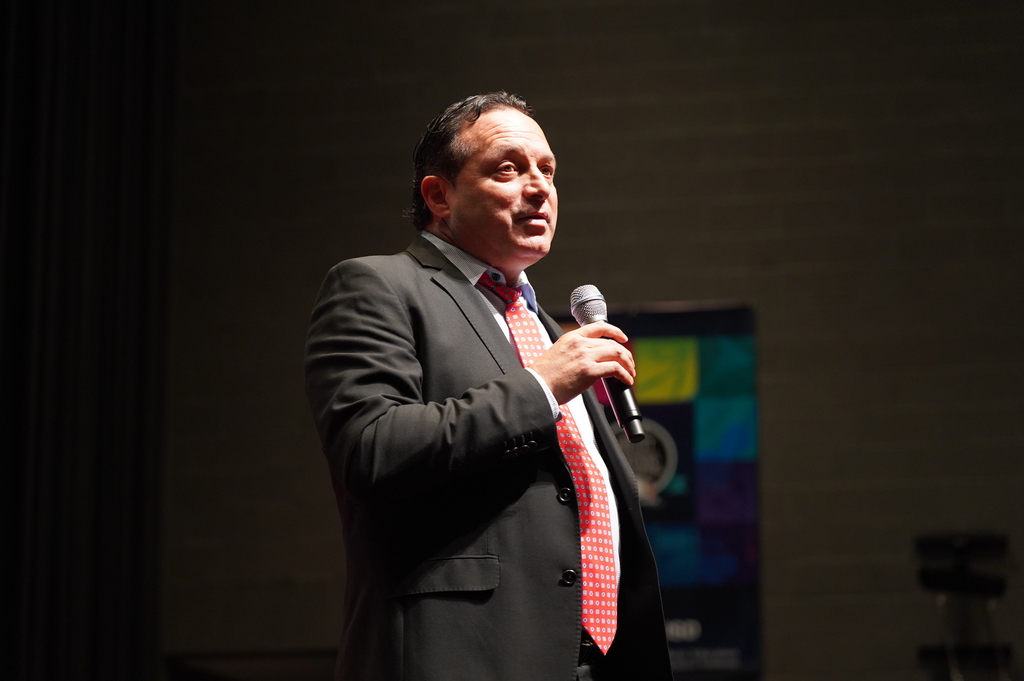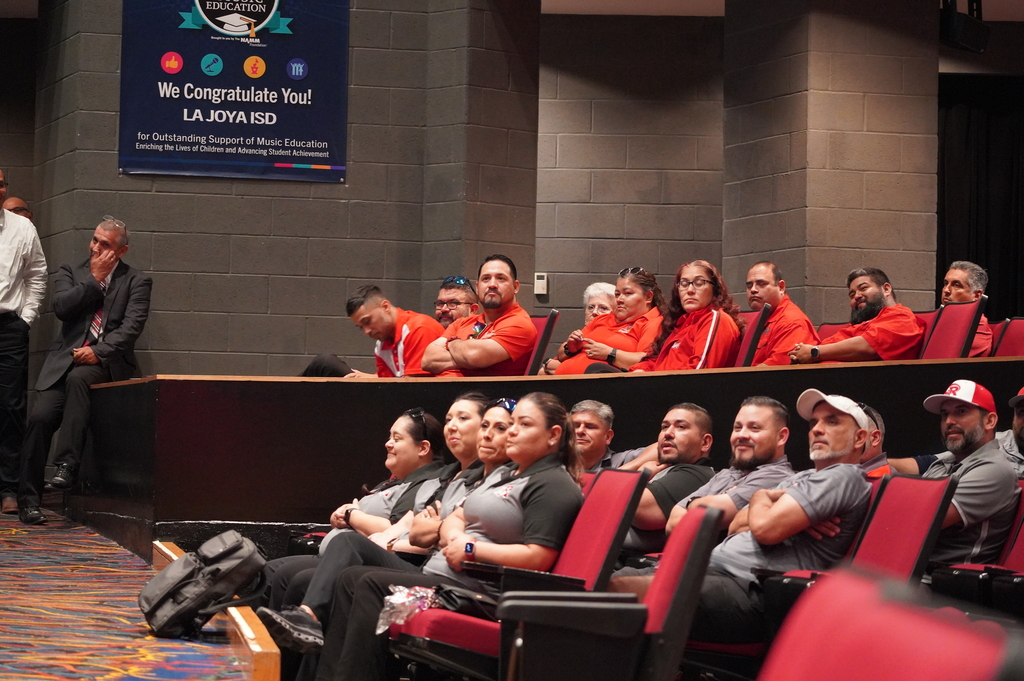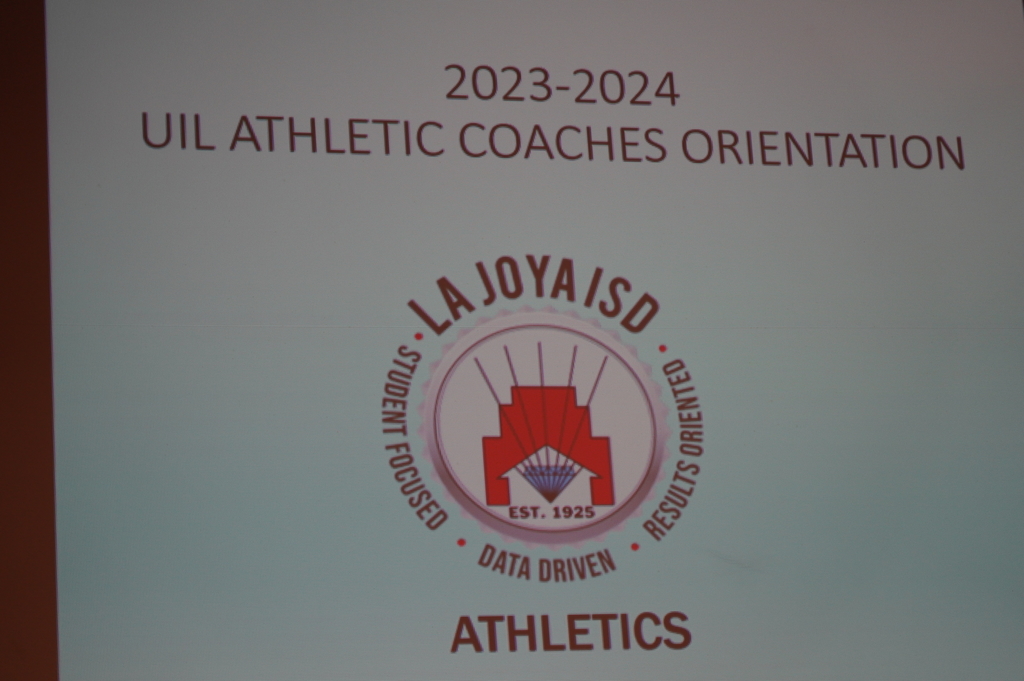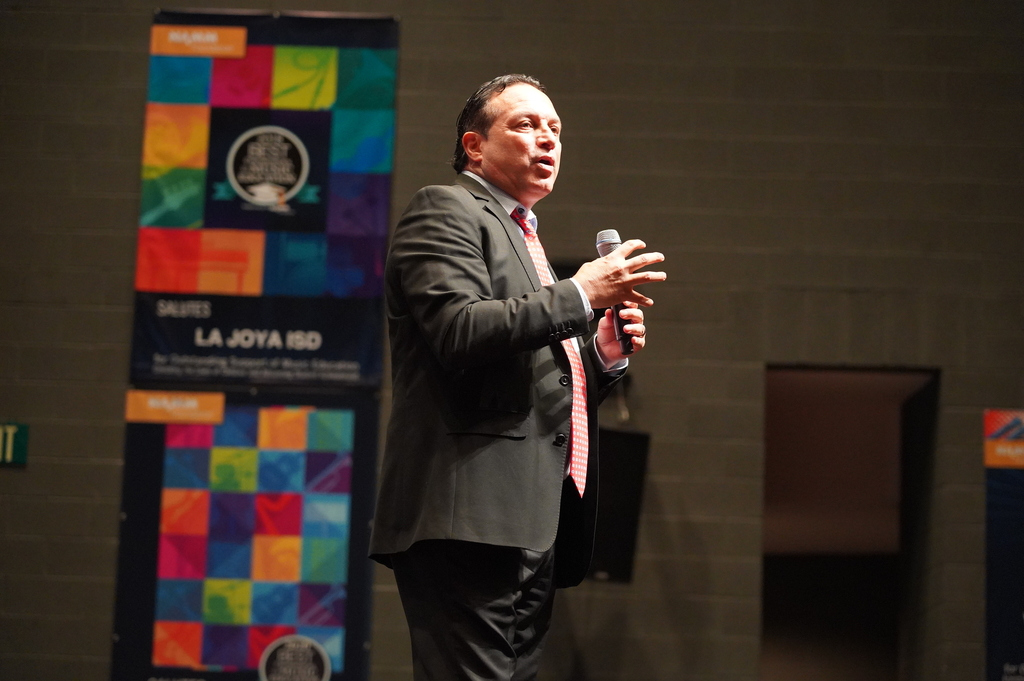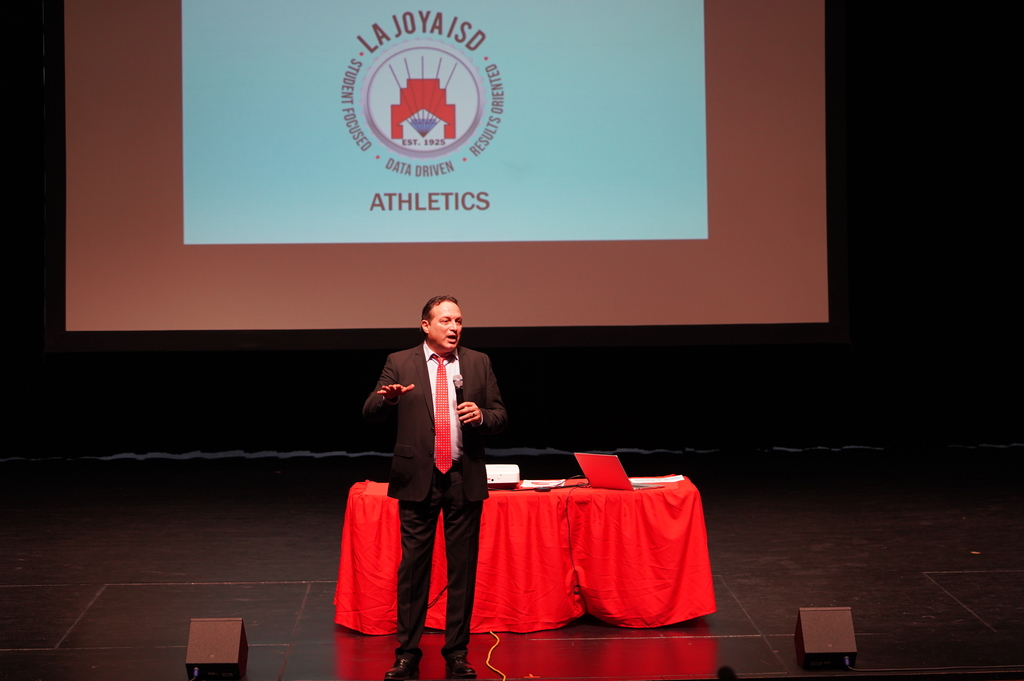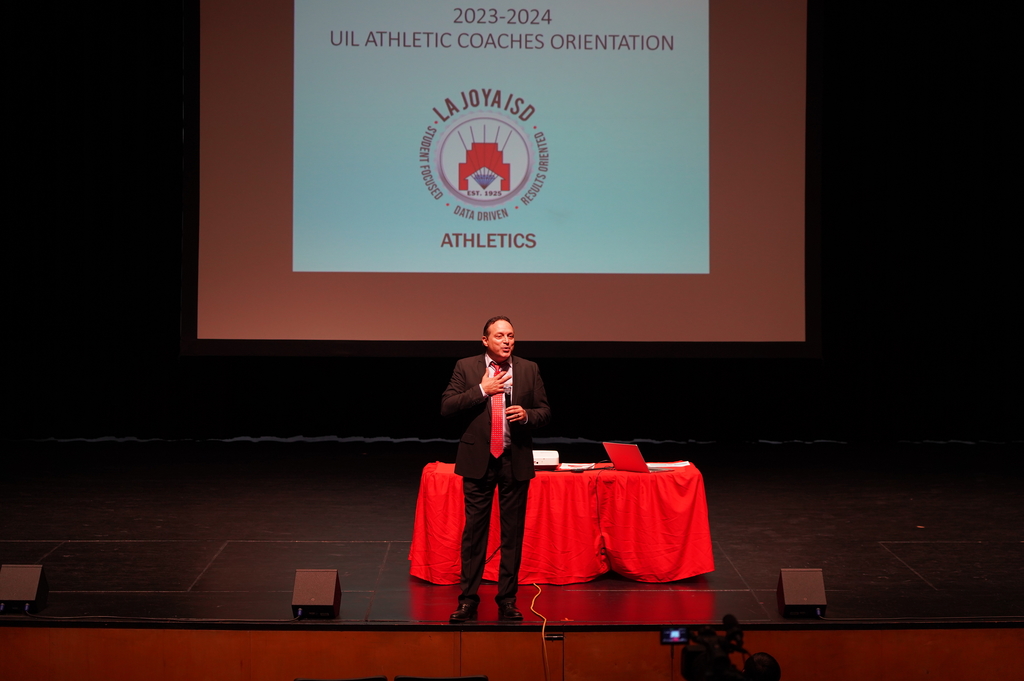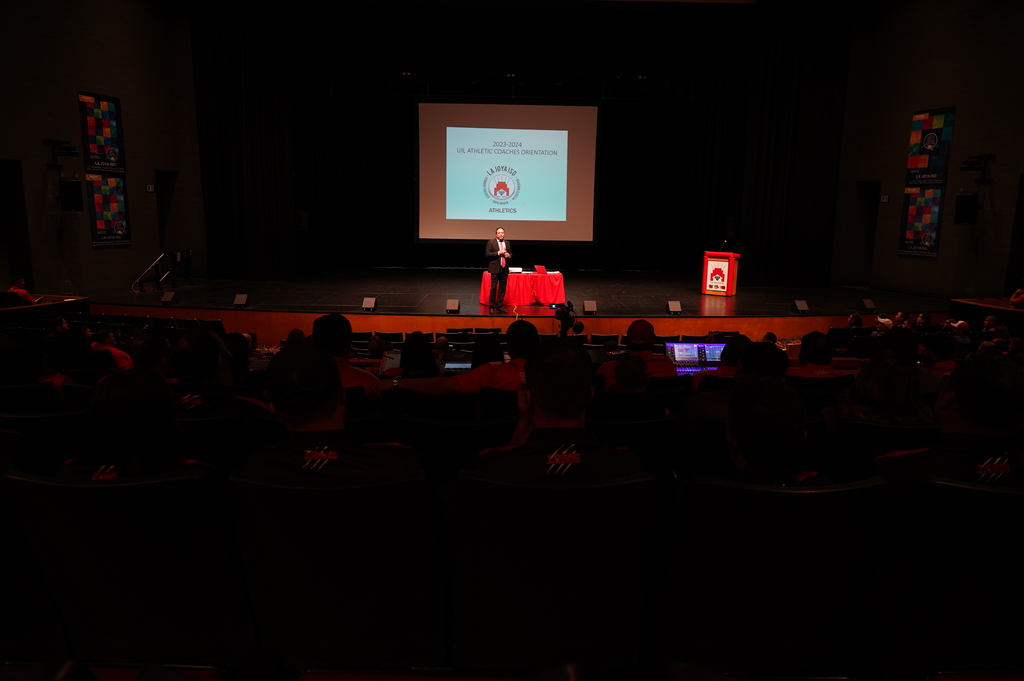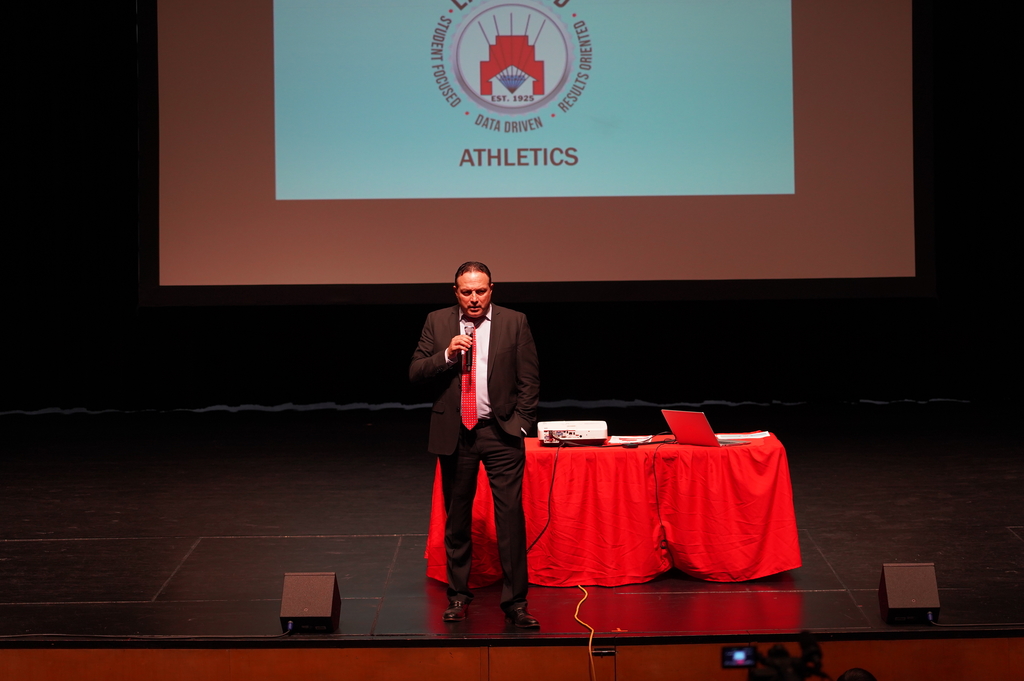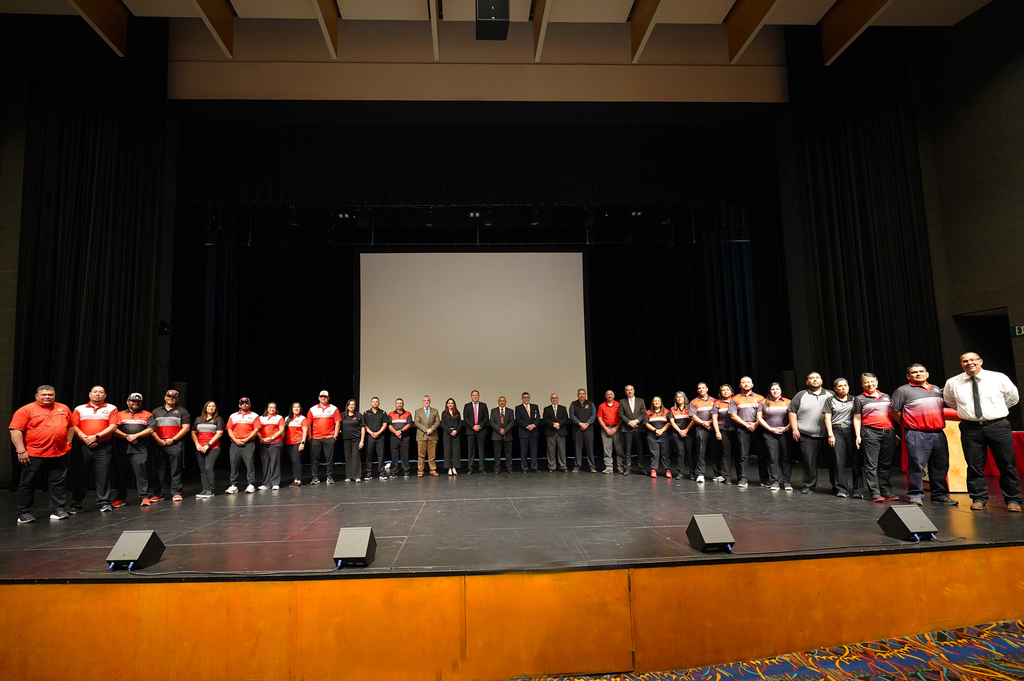 🎉🍎 We are thrilled to kick off our NEW Teacher Institute today! 🚀📚 Welcoming our talented educators, filled with excitement and fresh ideas, ready to ignite young minds with knowledge and creativity! 💡✨ Let's embrace this incredible journey together, empowering the next generation of learners and leaders! 🌟 #ljisdstudentfocuseddatadrivenresultsoriented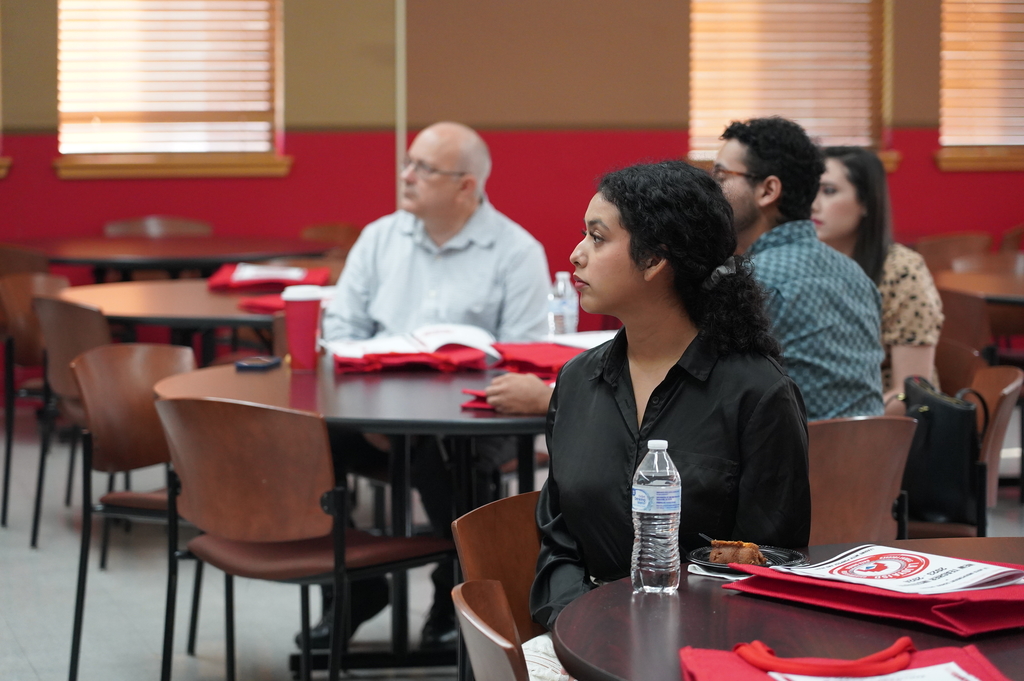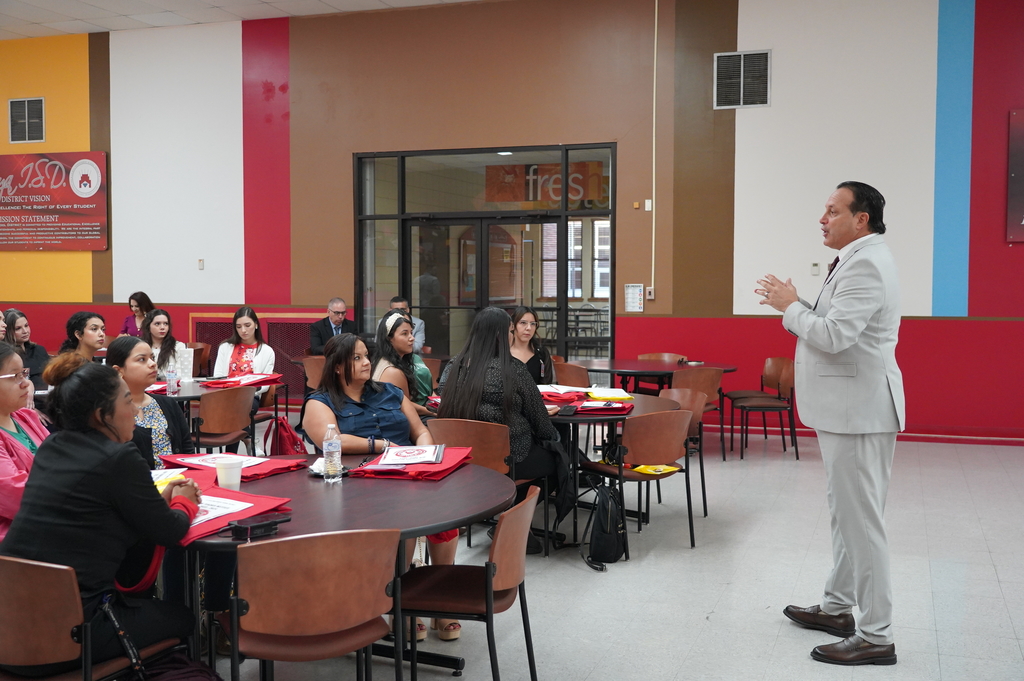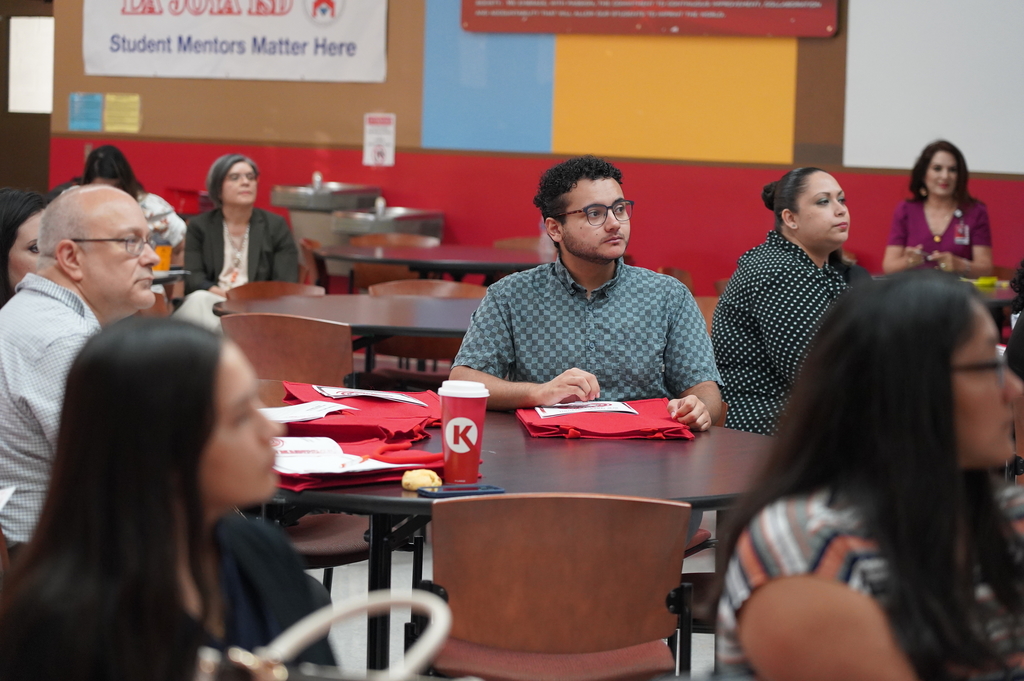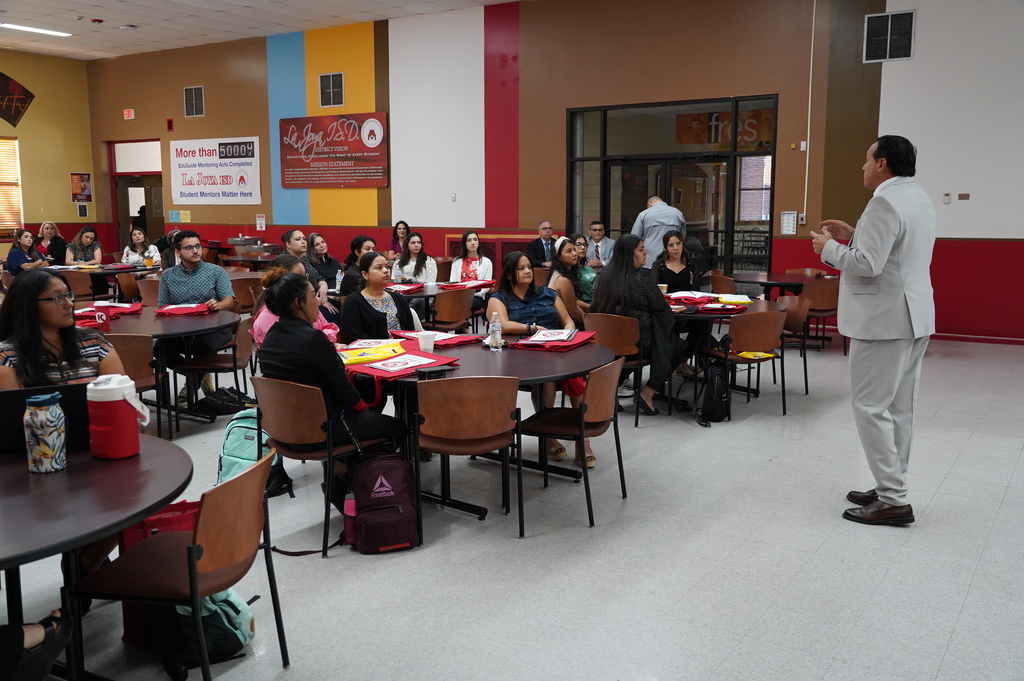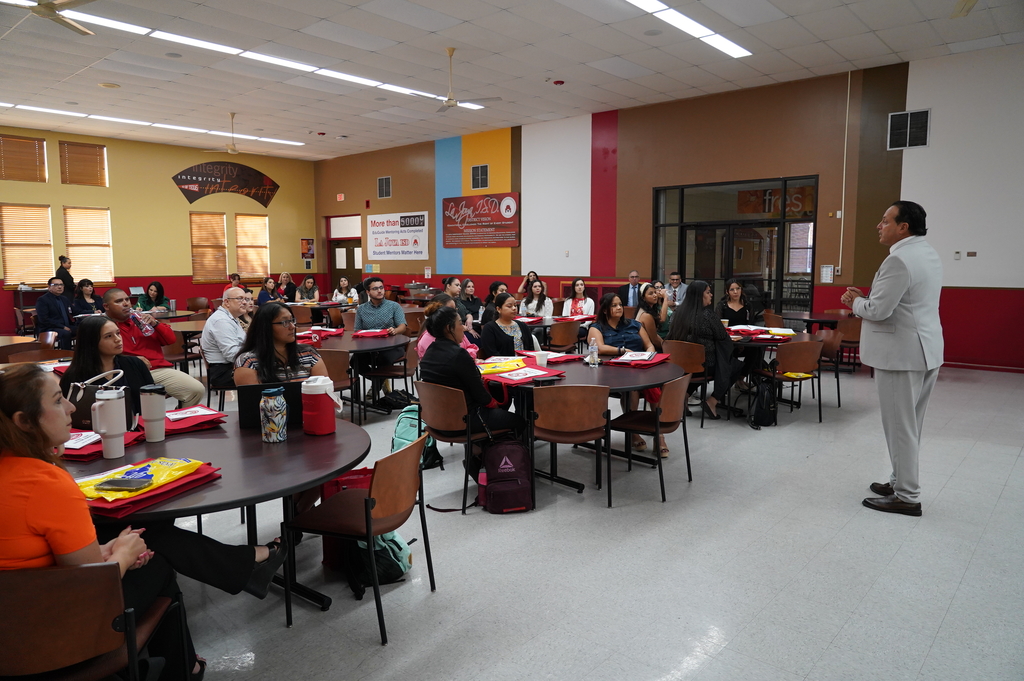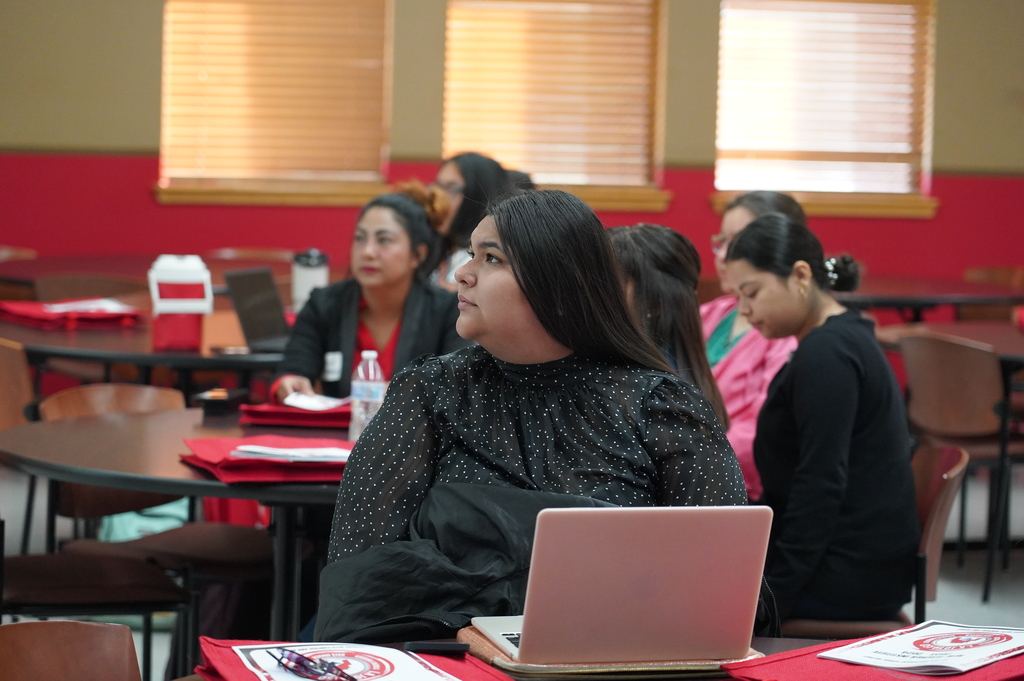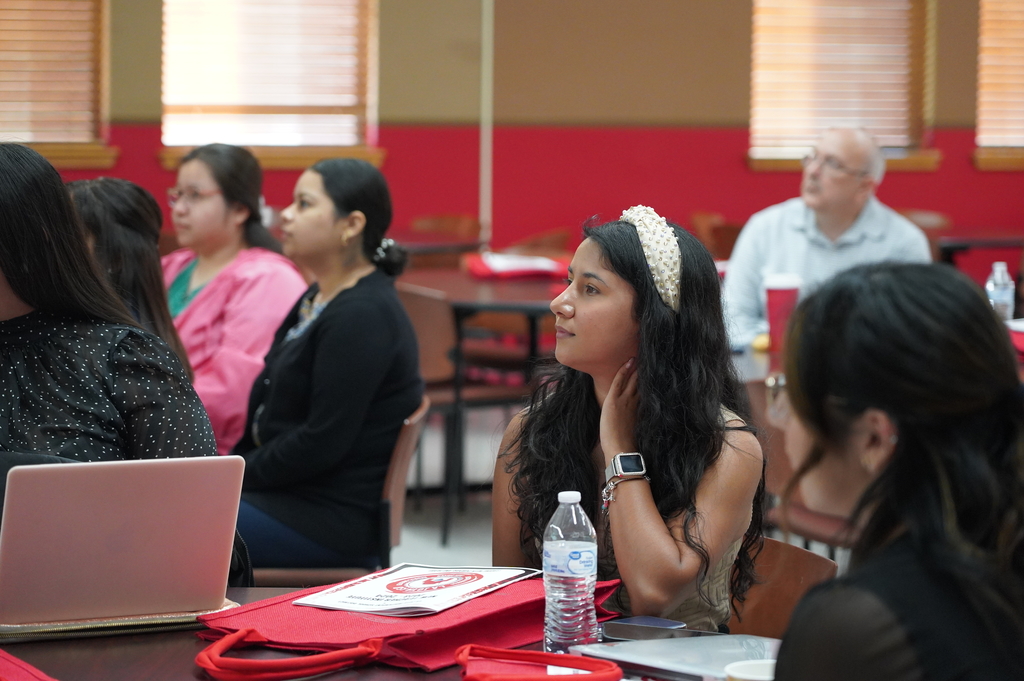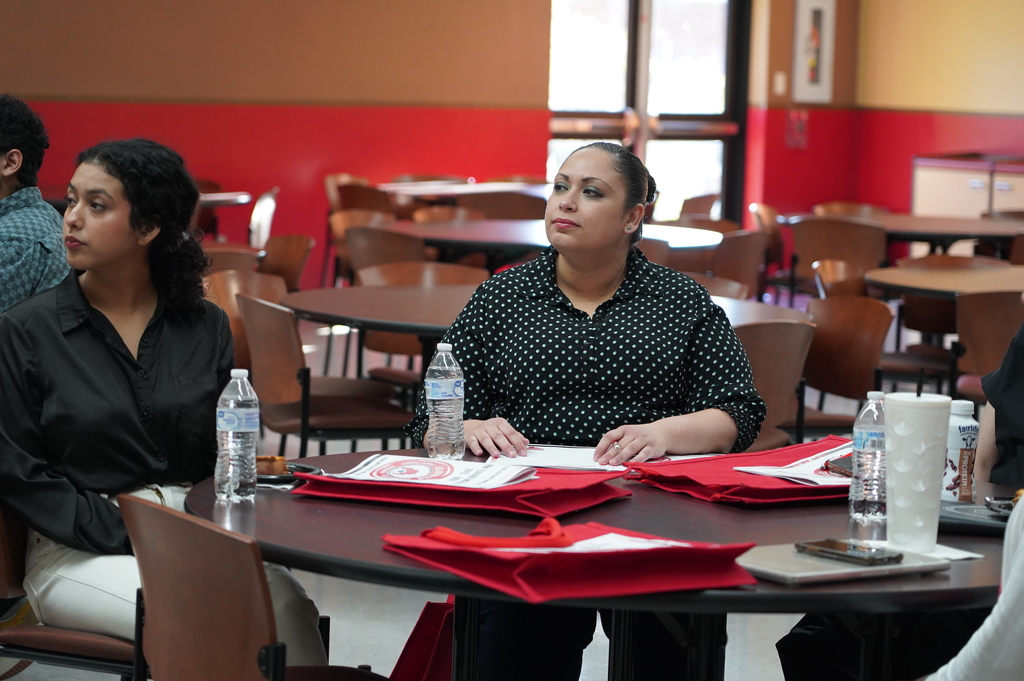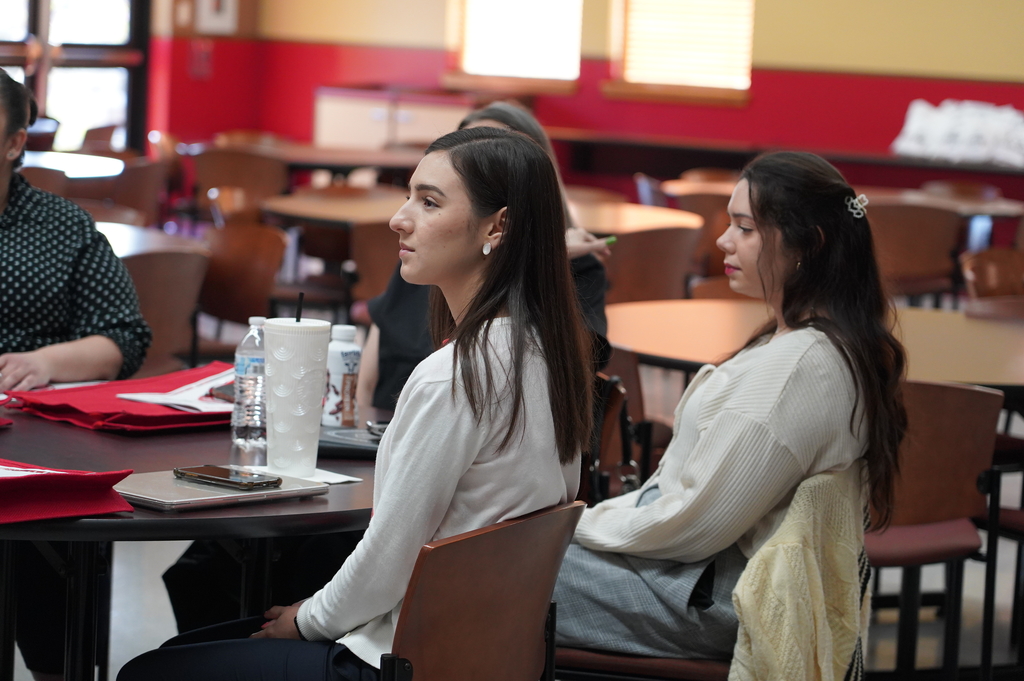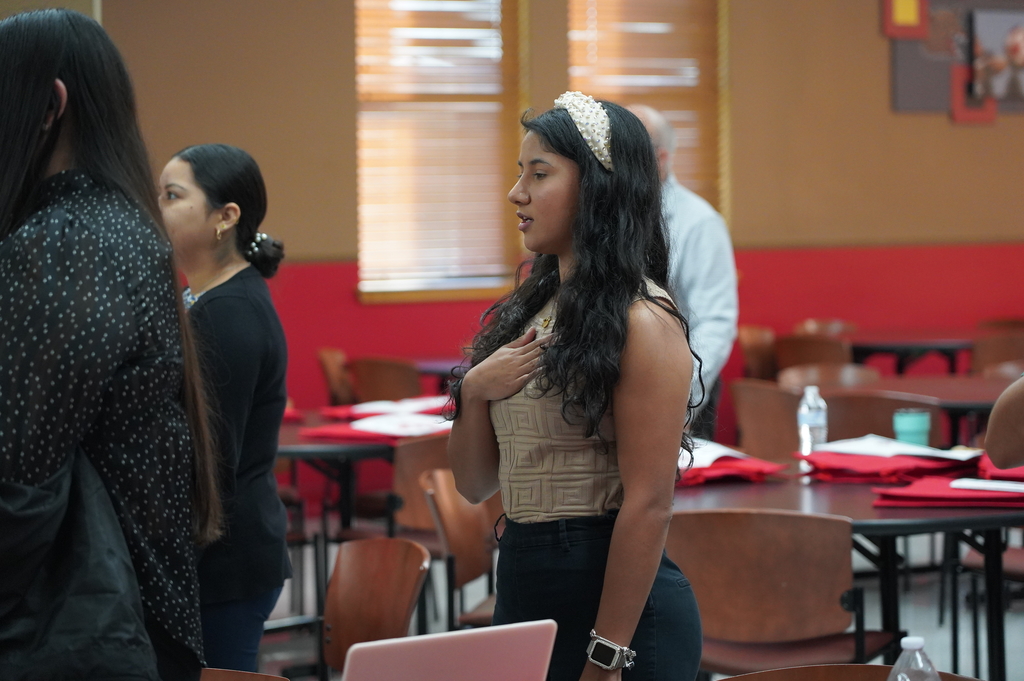 📚🌟 Great news! La Joya ISD is thrilled to announce that we will be offering ESL classes for our community! 🎓🤝 Spread the word and let's unlock new possibilities together! 🔒🏫 Your safety is our utmost priority! 🚨🔐 As a precautionary measure, please be reminded that proper identification will be required for entry into the campus during school hours. 📝👮‍♂️ Let's work together to ensure a secure learning environment for all our students and staff. Thank you for your understanding and cooperation! #ljisdstudentfocuseddatadrivenresultsoriented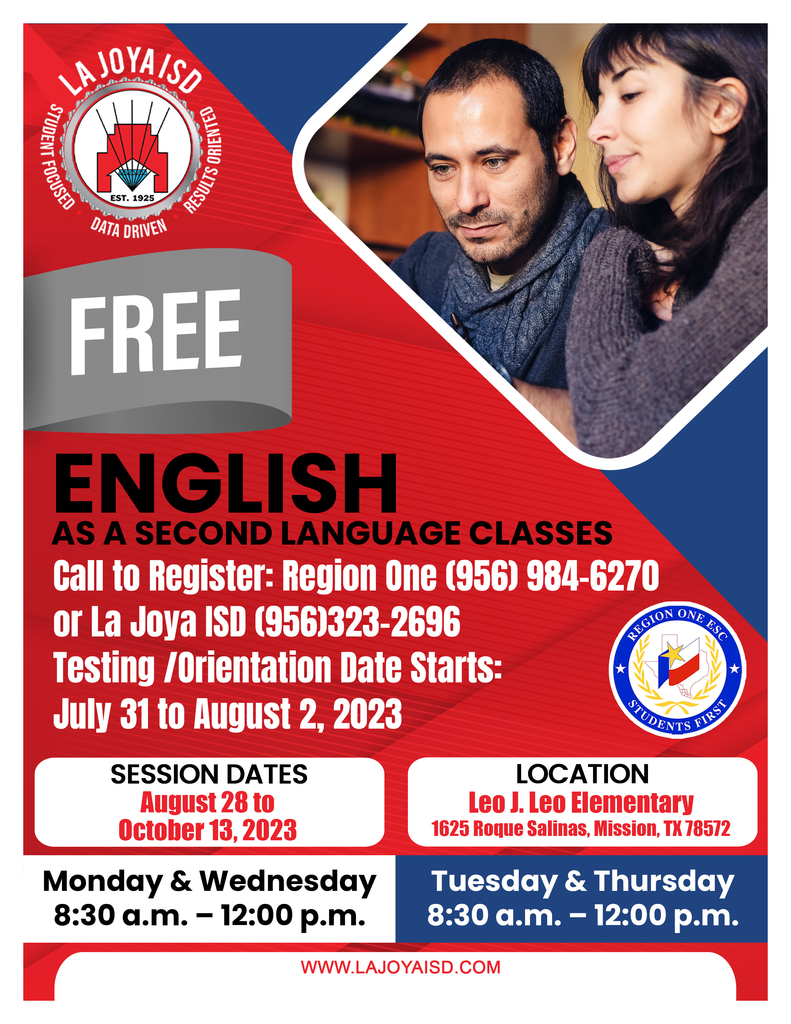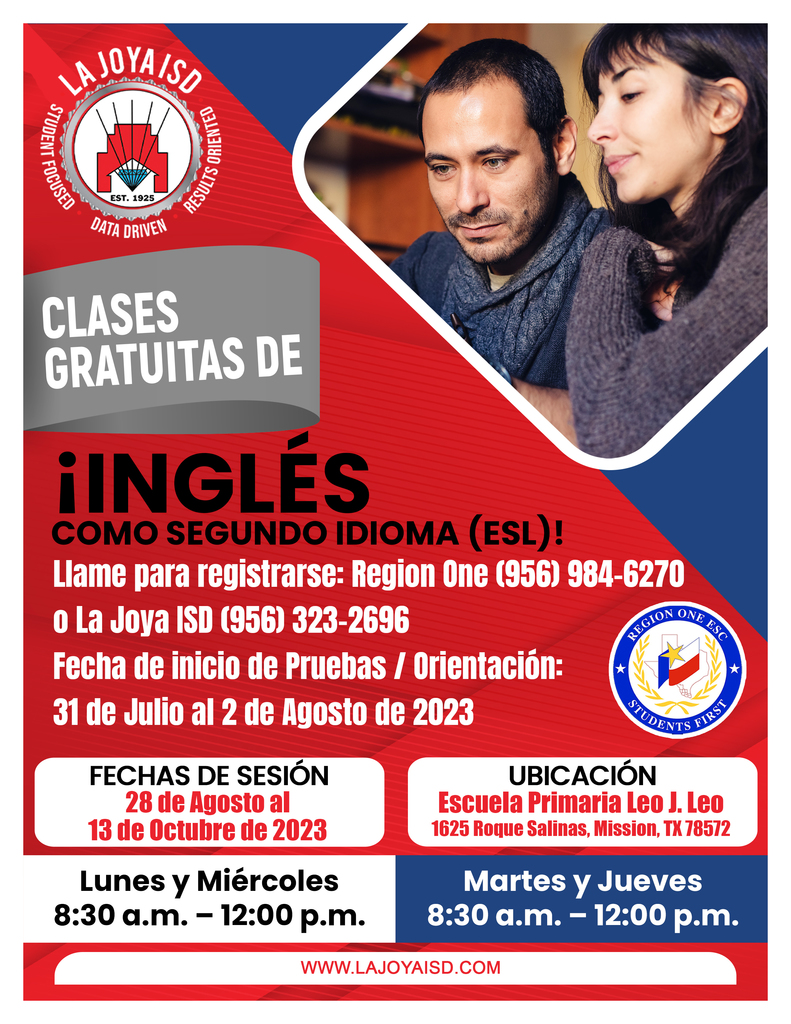 📚🔍 Today was an incredible day as Region One Education Service Center, the La Joya ISD Administration team, our Board President Mr. Alejandro "Alex" Cantu, and our legal team came together with a shared mission! 🤝💼 We delved into a detailed examination of our academic needs, focusing on each campus to forge powerful partnerships that will guarantee the best educational opportunities for our students at La Joya ISD. 🏫✨ Excitement is brewing as we pave the way for an even brighter future in education! 🚀🌟 #ljisdstudentfocuseddatadrivenresultsoriented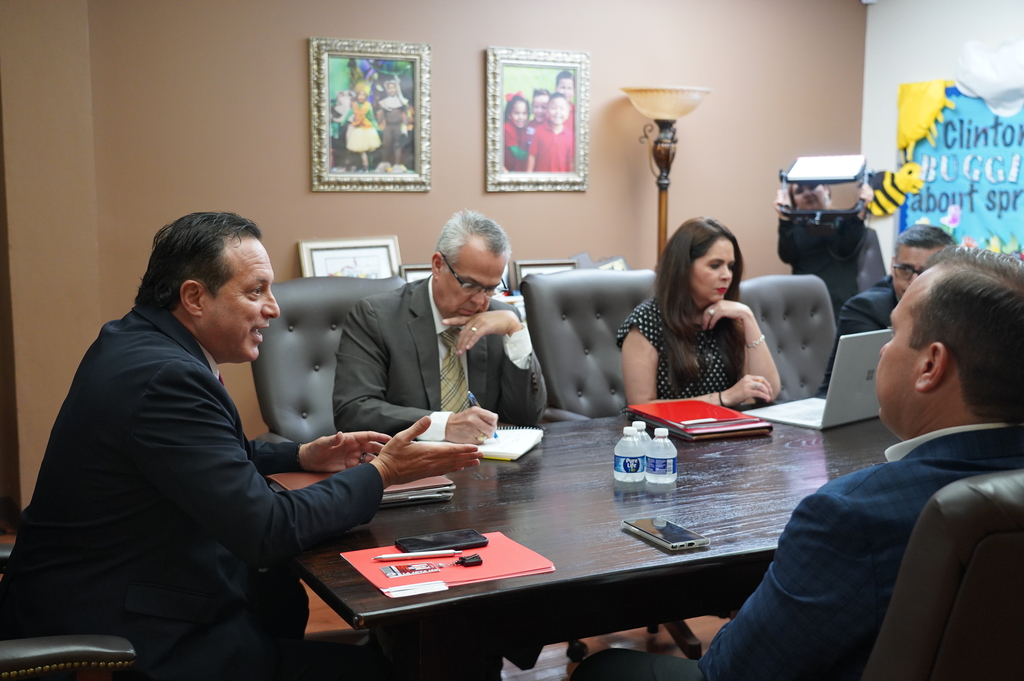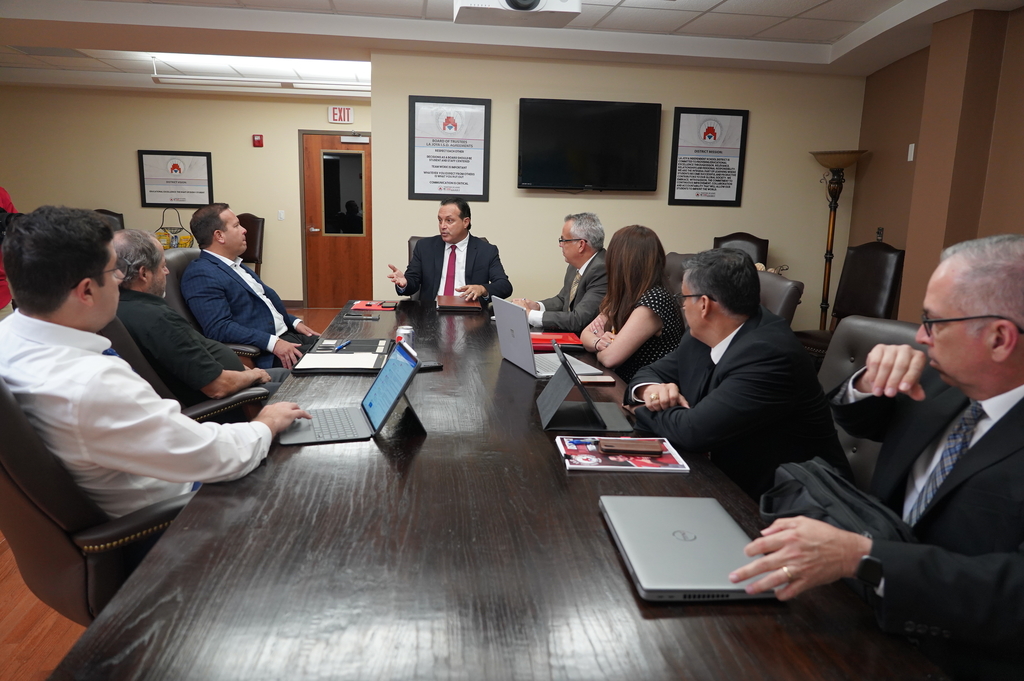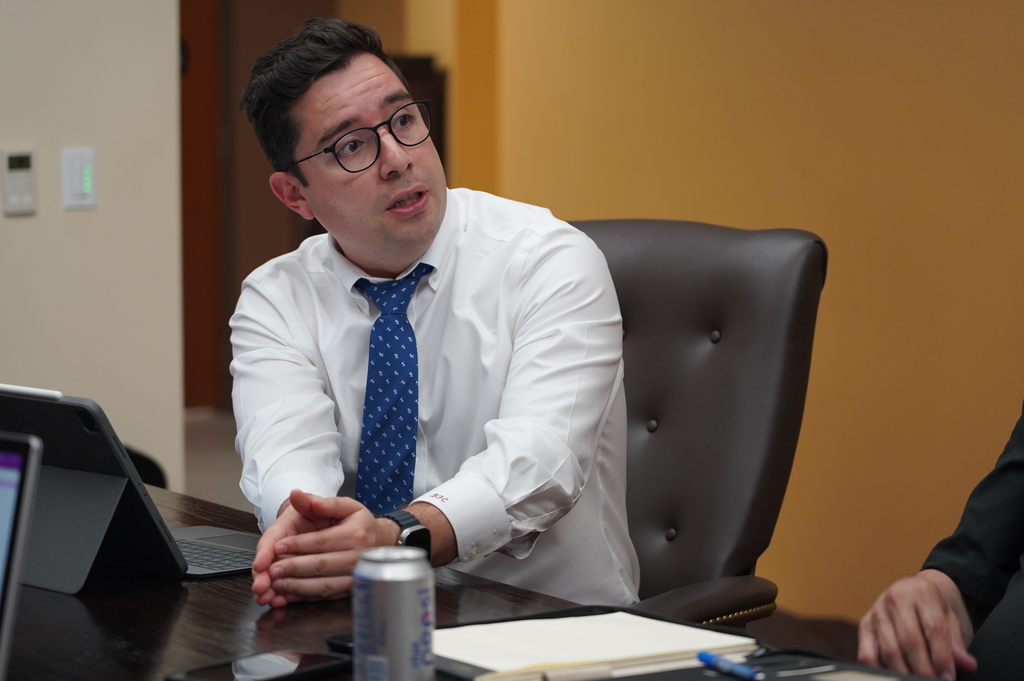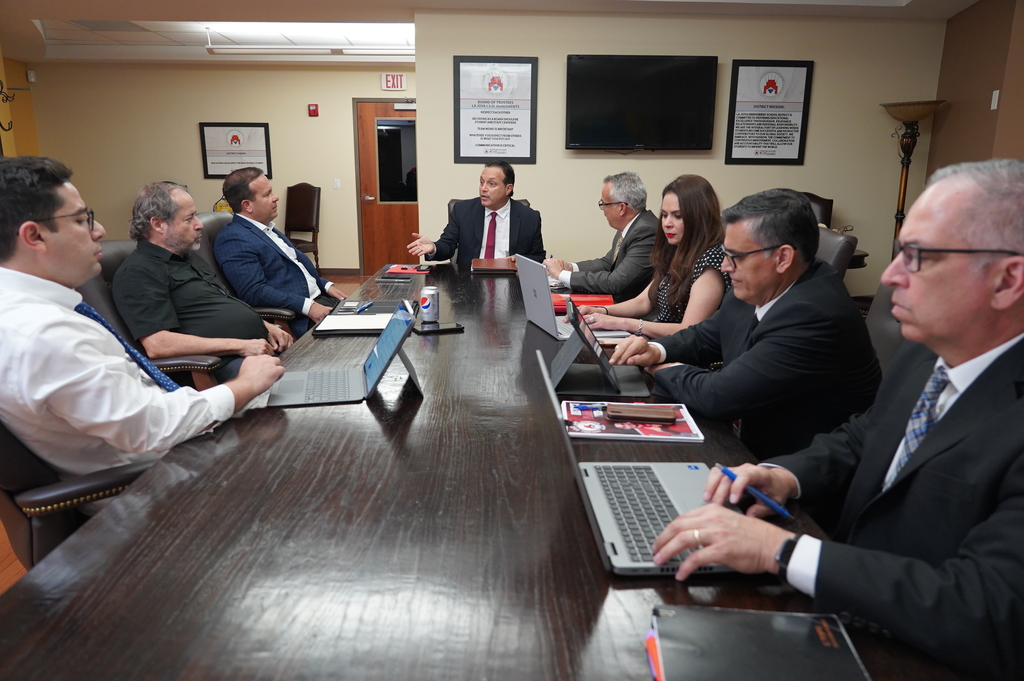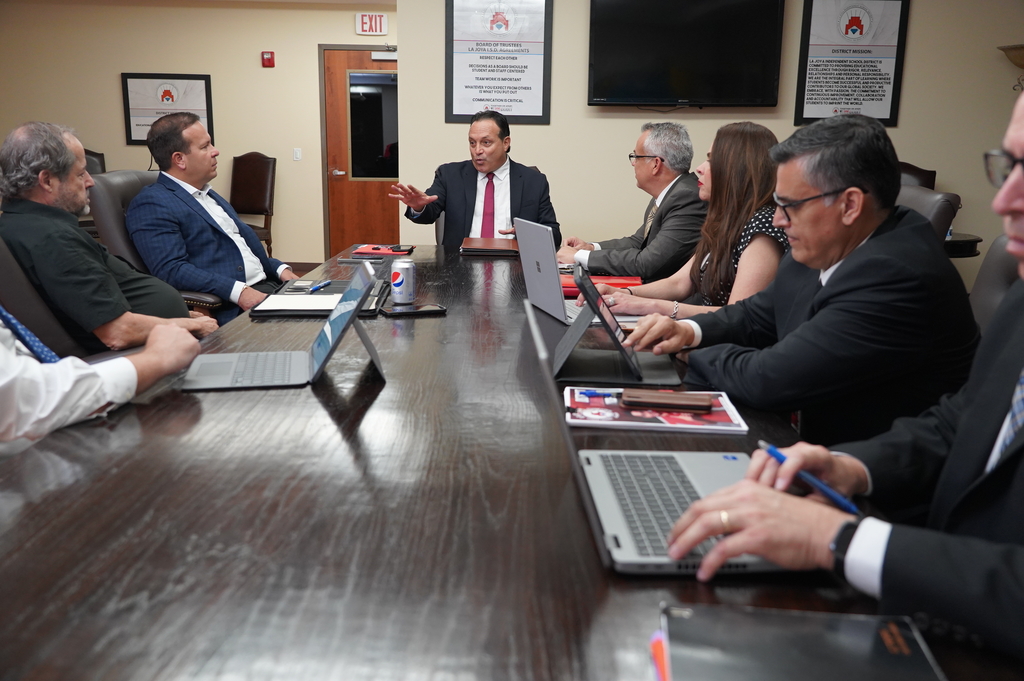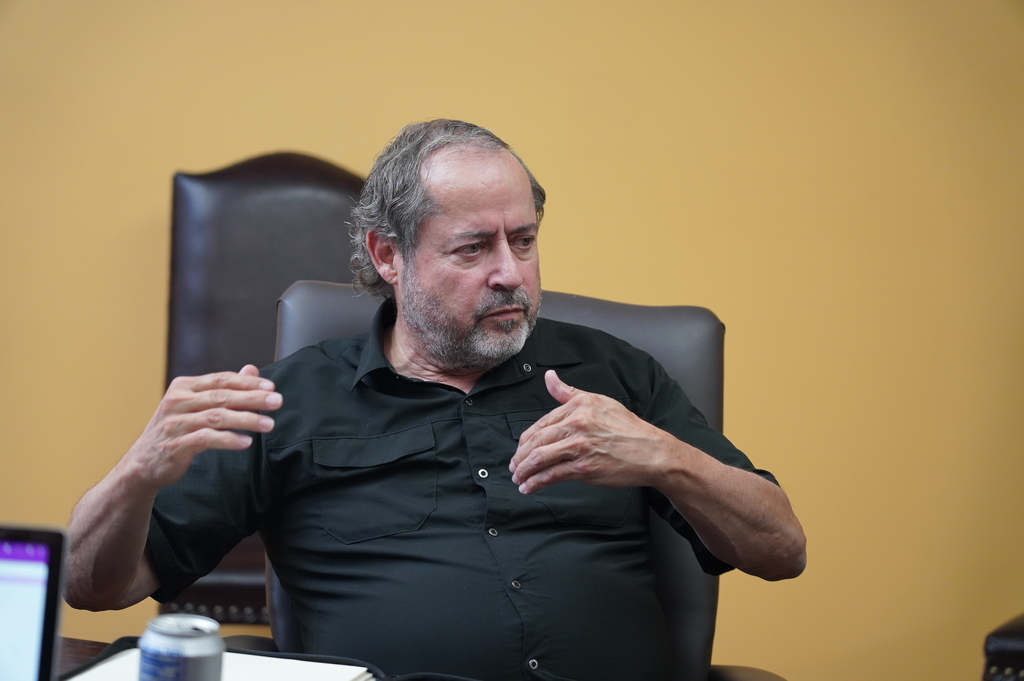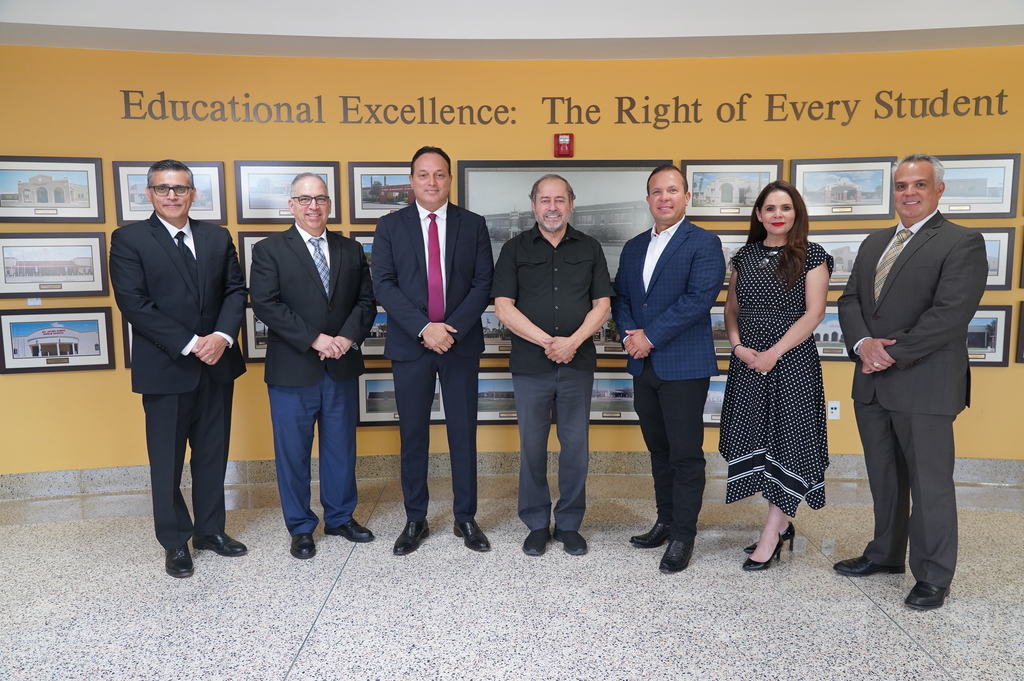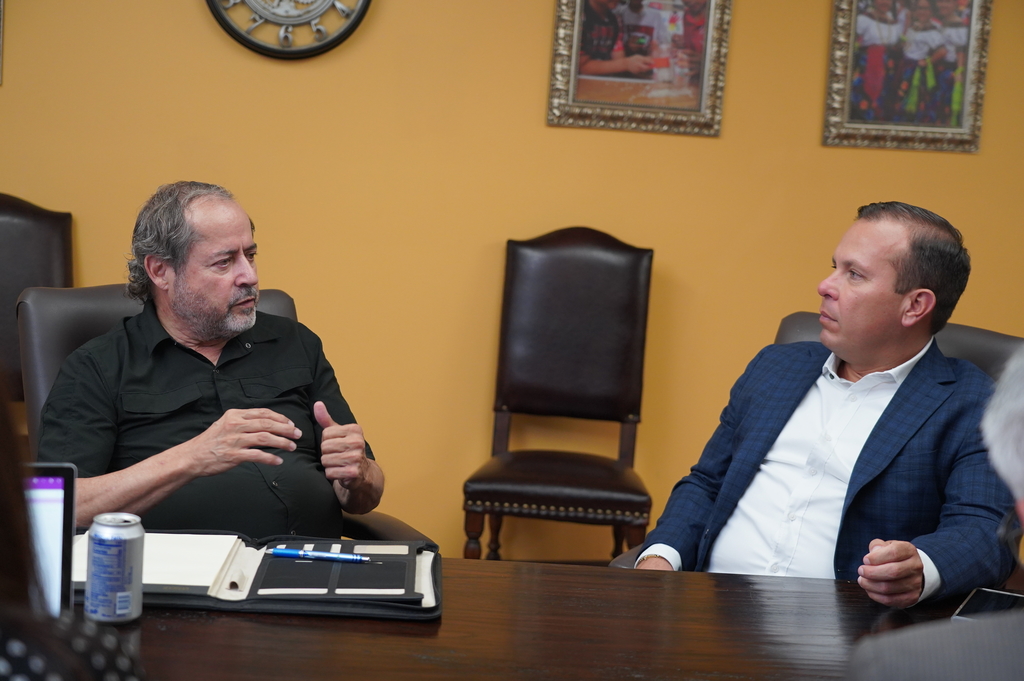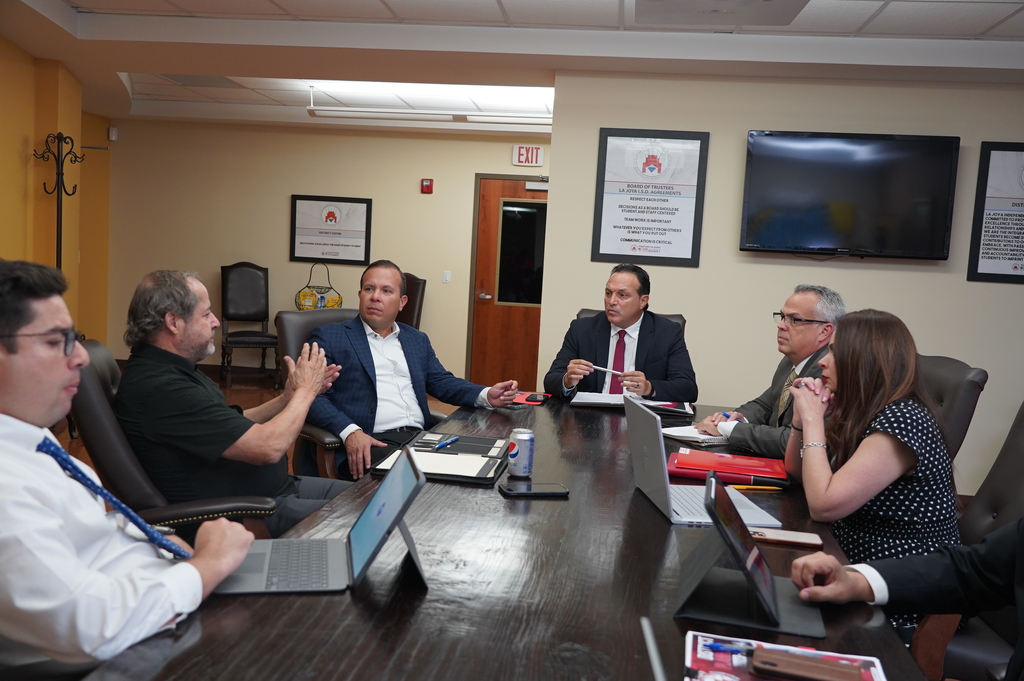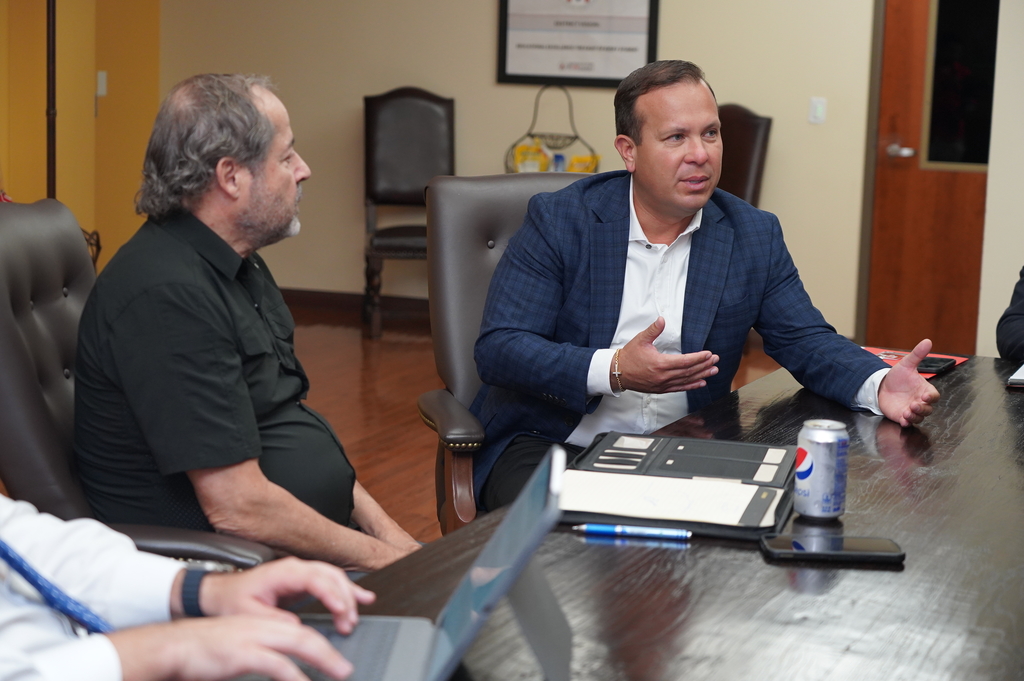 📚🌟 Great news! La Joya ISD is thrilled to announce that we will be offering GED classes for our community! 🎓🤝 Whether you're seeking a fresh start or aiming to further your education, we're here to support you every step of the way. Spread the word and let's unlock new possibilities together! #ljisdstudentfocuseddatadrivenresultsoriented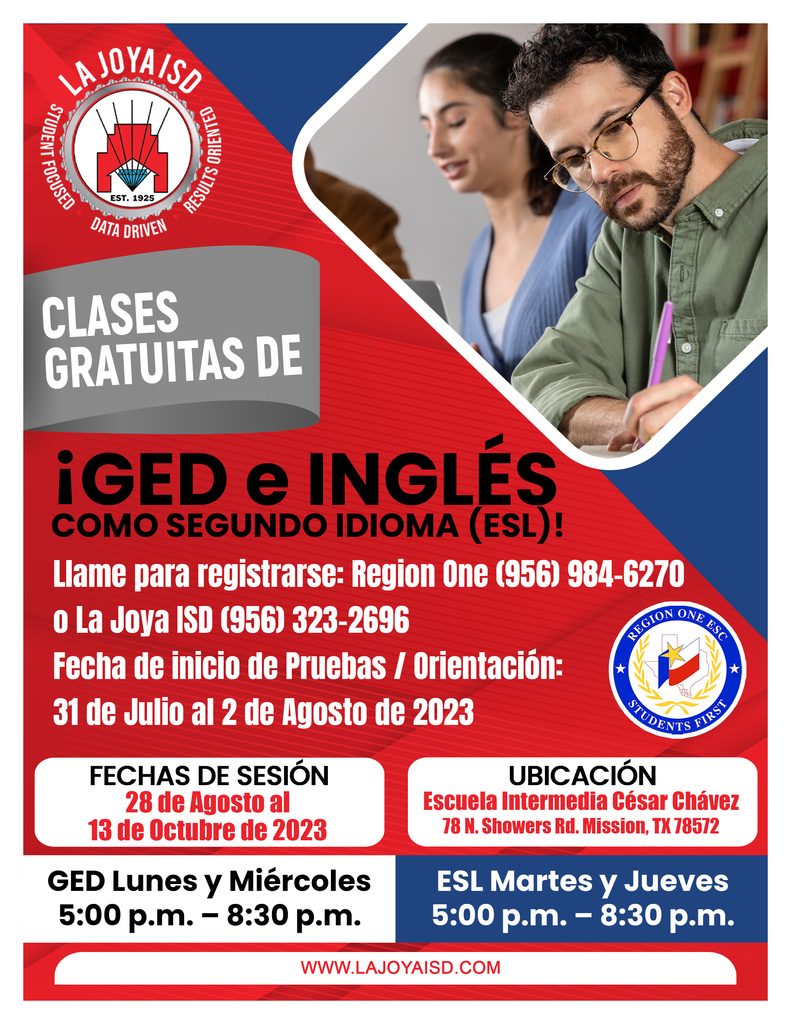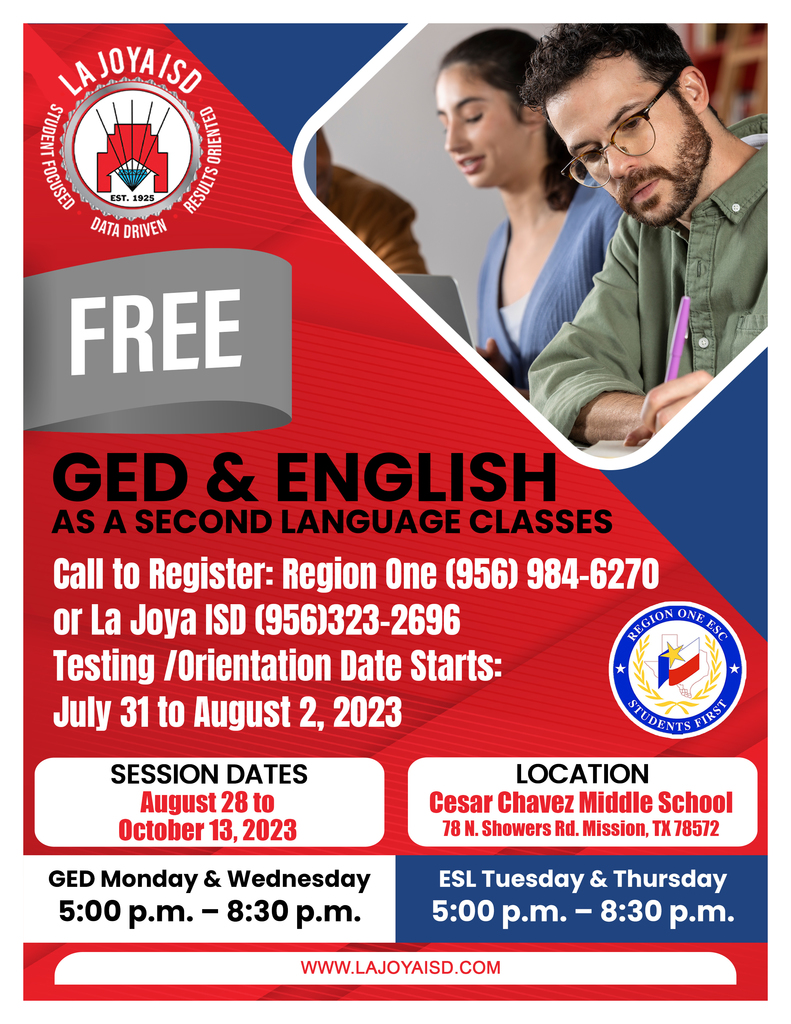 🎉📅 Excited to see you all at our enrollment event on August 2, 2023! 🤩🎊 Join us for an amazing day filled with opportunities and fun for the entire family! Don't miss out! #ljisdstudentfocuseddatadrivenresultsoriented